I'm going to start doing monthly recaps just to let you know what I've been up to. I'm going to break this up into categories. This month, the categories are: TpT Resources, YouTube video posts, Blog posts, and Life. I'll finish up with a preview for what's on deck for next month at the end!
TpT Resources
I updated all five challenges in the Halloween STEM Challenge bundle! This was the first seasonal set I ever made, and I found that having spent the last year creating a total of 43 challenges I had a lot of new inspiration to make the Halloween set even better than before! I added primary response pages, new extension ideas, links, and more! I know a lot of you own the bundle or some of the individual challenges, so be sure to download the new updates!
I also combined all 43 STEM challenges into a STEM Mega Bundle at a huge discount!






YouTube Posts
Back-to-School STEM Challenge: Apple Annihilator
Back-to-School STEM Challenge: Apple Ally
Back-to-School STEM Challenge: Apples A-head
(Note: Apples Aloft & Apples Afar were posted in July)
STEM Challenge Catalog
5 Reasons You (only think you) Hate STEM Challenges
YouTube Resource Round-up
Blog Posts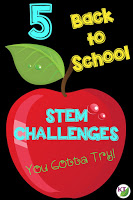 Back-to-School STEM Challenges
(guest post on Hojo's Teaching Adventures)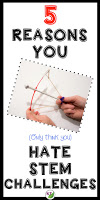 5 Reasons You (only think you) Hate STEM Challenges
(guest post on Minds in Bloom)
In Defense of the Lazy Teacher
YouTube Resource Round-up: Videos for Teachers






Life
I moved to Washington State in January, so it's not even been a full year yet. I have been loving the gorgeous summer, going on hikes and entertaining guests with touristy Seattle fun. That's my best friend since 8th grade with me and that mountain hike just about killed me; my calves burned for days! By the time we made it to the city portion of the trip, we were hobbling around like little old ladies. See that smile in the Pike Market photo – that's the glee of standing still! 🙂
Coming Up – Stay Tuned!
– Product Updates for the Thanksgiving STEM Challenge Bundle.
– YouTube video posts for all Halloween STEM Challenges — including ideas for how to use them if you're not technically allowed to do Halloween activities
– There's more, but girl's gotta keep a little mystery in her life!