Struggling to find enough time for STEM activities?
🪄 Transform Your Classroom with Quick & Easy-to-Implement STEM Activities:
Fuel Curiosity and Ignite Innovation with Easy STEM Activities in 30 Minutes or Less! ⏰
---
Are you tired of:
Feeling rushed & always running out of time to hit all the steps of the Engineering Design Process — especially design analysis, discussion & reflection?
Feeling like your students don't know how to tap into their creativity & critical thinking, and you're struggling to help them develop those skills?
Feeling overwhelmed by the expense & chaos of managing materials, space to store STEM projects, & trying to fit everything in to your STEM block?
Any of this familiar?
You don't have nearly enough space in your room to store ongoing STEM projects.
Sub plans are a nightmare! You want students engaged, but you also don't want to return to a disastrous mess or materials "walking off" while you're out.
There's little-to-no budget left for STEM materials, and you're tired of spending your own money.
It seems like students are either creative, critical thinkers or they aren't, but you have a nagging suspicion there's a way to help everyone develop these skills … you just haven't found anything that works well yet.
Too many days end in utter exhaustion. You know what you're doing now isn't sustainable long-term, but wonder if it's even possible to find something easy for you to manage that isn't also too easy for students.
---
There's a gulf between the ideal & reality…
Sometimes it feels like we're being set up to fail when there is no room for negotiation on how we allocate the minutes in our daily schedule.
We know STEM should be challenging, open-ended, mind-bending problem-solving.
We know that deep learning can't be rushed.
We feel the pressure of fitting everything in, even when the time constraints make that feel impossible.
We burn ourselves out trying to make the impossible possible. We don't want cutesy time-fillers; we want to give our students what they need & deserve. Easy STEM activities!
Developing STEM thinking & habits of mind in the classroom is an extraordinary challenge without the right resources. Period.
I've been there.
You'd probably agree with me that 30 minutes is NOT enough for STEM — especially if we're trying to honor all the steps of the engineering design process.
Yet, sometimes 30 minutes is all we have, and we have to be creative about how we can use that time effectively to help students develop STEM minds.
Sometimes we may choose to break up a big STEM Challenge over multiple 30-min. periods, but I knew I also desperately needed an easy solution that would help students think critically, be creative, communicate, collaborate & develop curiosity — that could actually be completed in a single 30-minute block (or less)!
I wanted something that was easy for me to manage but still challenging for students. But everywhere I looked, I couldn't find resources that fit the bill.
What I Needed Didn't Exist and I Had to Solve This Problem
I couldn't go through one more year feeling like I was running on fumes, trying so hard to do all the things, and wondering how much I was really accomplishing for all that effort.
My students deserved an education that would actually give them tools to succeed in life — experiences that would build the problem-solving & soft skills that everyone needs, not just those who pursue STEM careers.
I deserved a sustainable plan I could feel good about. One that gave students what they needed, without leaving me burned out on prep or broke on materials.
Imagine never having to scramble or search for quick, worthwhile STEM activities ever again.
🤩
Envision a world where you can quickly & calmly choose a hands-on or materials-free activity in seconds.
😍
Picture yourself well-rested & enjoying the electric buzz of students deep in STEM conversations.
😎
It's NOT a fantasy.
🤙 Pinky promise, this is possible — even in 30 minutes or less.
Here's how:
✨ Introducing the Ultimate 30-Min. STEM Kit ✨
❤️ For teachers who want a ready-to-go tool kit of quick & easy STEM activities!
(Easy for you, still challenging for students!)
❤️ For teachers who need easy STEM activities for centers & sub plans that don't require a ton of materials — say goodbye to returning to a messy classroom!
(Tornado-chic is SO last year, am I right? )
❤️ For teachers who aren't about "filling" time with fluff. These activities were thoughtfully created to focus on often-neglected areas of STEM (& in life)!
45 Quick Builds
Quick challenges using 5 or fewer simple materials. Each build comes with 2 options so students can self-differentiate!
45 Challenges
STEM Improv
Develop creativity, mental flexibility & the planning step of the Engineering Design Process (EDP).
7 sets / 2,352 possible design combinations!
Design Domino
Students think critically & creatively to plan customized designs for specific animals.
12 cards / 432 possible design combinations!
Analyze This vs. That
Analyze sets of 2, 3, or 4 real-world designs that solve the same or similar problems.
2 sets / 54 cards
Would You Rather STEM
Would You Rather STEM questions are all about critical thinking & helping students shift their minds into thinking like scientists to prepare them for your lessons.
2 sets / 60 cards
8 Ways to Use…
In this creativity exercise students stretch their brains & "vary the verb" to find 8+ unusual ways to use everyday objects.
2 sets / 64 cards
STEM Ideals
Teach character education with this easy STEM activity. Designed specifically around 25 traits of STEM professionals
5 sets of 5 ideals with posters,
activities & awards
Speak, Listen, Draw
Practice communication skills (one of the 4 Cs of Engineering) by giving & following directions to draw pictures. Also helps reinforce math vocabulary, estimation, and measurement skills.
44 cards
Collaboration Lesson
Students explore what good collaboration should look like & sound like.
One lesson
See-Notice /
Think-Wonder
Students practice observing, thinking & questioning. It sets up an environment that provides the time & mental space needed to develop curiosity & divergent thinking.
8 sets: Plants & Animals (241 cards)
& Earth Science (50 cards)
Bonus – The 4 Cs Posters
(+ Curiosity)
Add the 4 Cs of Engineering posters to your classroom decor or add curiosity — the 5th C of engineering, in my humble opinion! Comes with quick activity to explore & discuss each C.
5 posters and reflection pages
This is what you've been waiting for!


Your students engaged in the 4 Cs of
Engineering with time to spare!
🧠 11 mind-bending resources give you easy STEM activities to explore the 4 Cs of Engineering with your students all year long!
🧰 With a mix of easy STEM activities requiring just a few simple materials and activities that require NO materials at all, prep & set-up is a breeze.
🎯 Rest easy knowing that while this kit makes life easier for you, it's still brain-building, challenging STEM for your students!
🥰 Ready to make your teacher life easier
… and keep the challenge alive for students? 🥰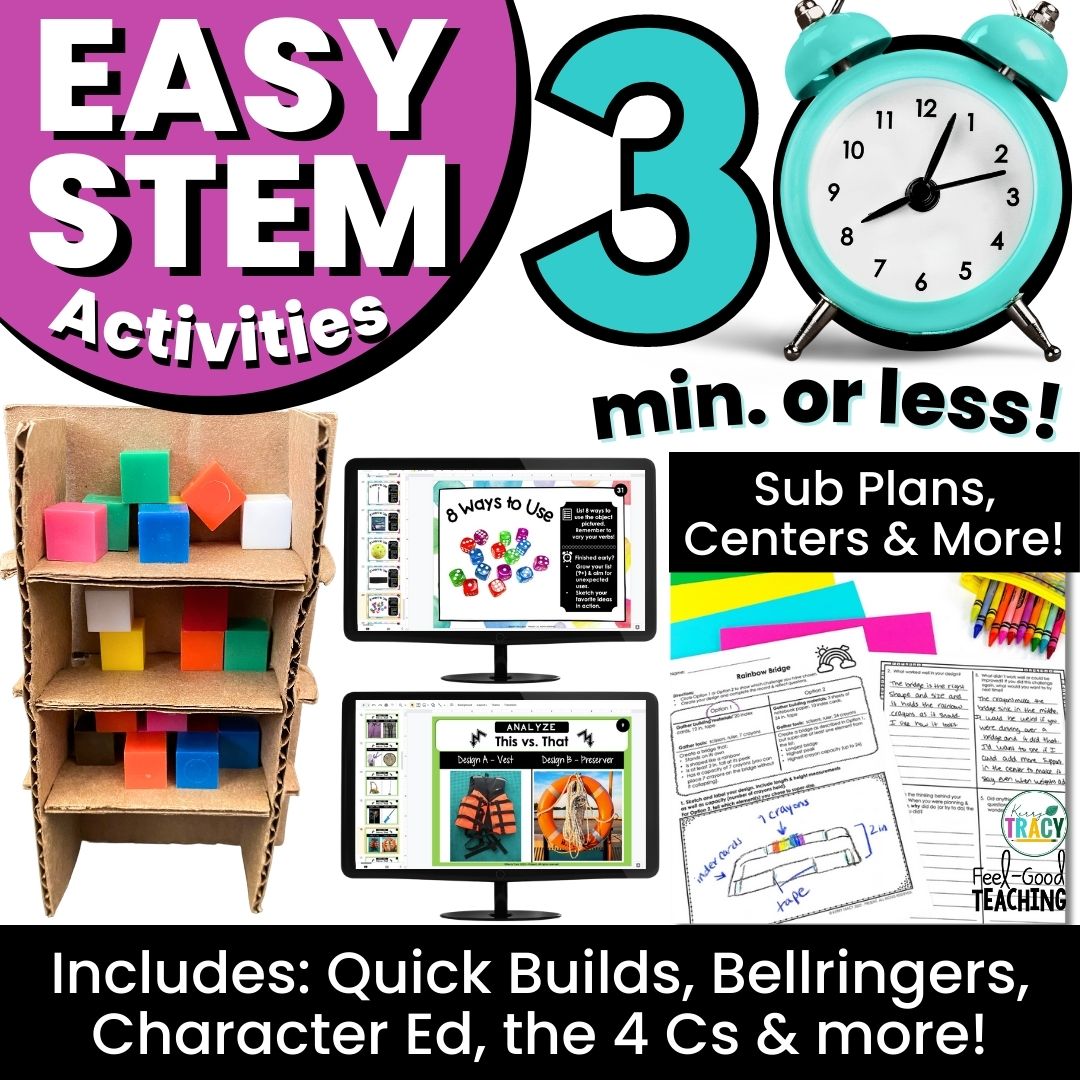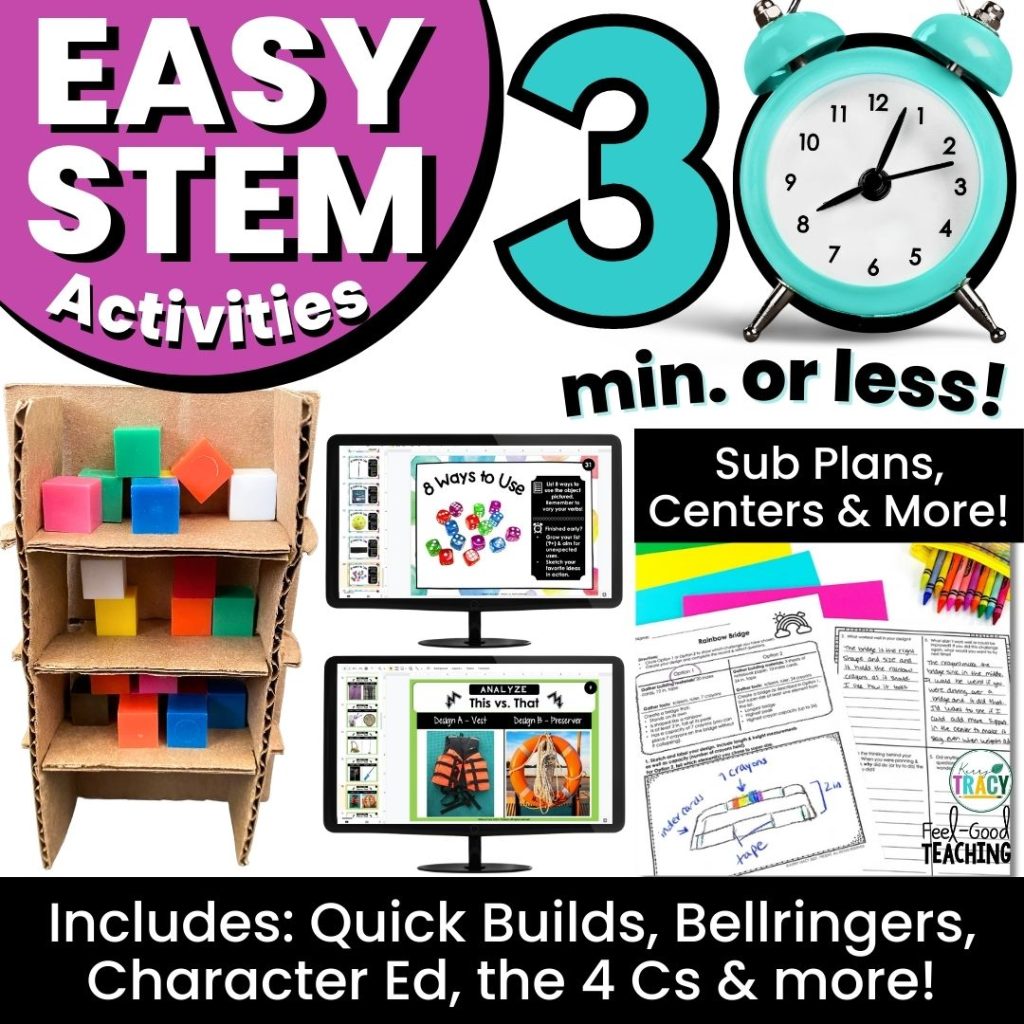 Buy the Easy STEM Activities Bundle on these Platforms:
Other features include:
Options! Use the 11 resources as stand-alone activities, or use the bell-ringer or center format (images right) to sample 5 activities each week or each day.⭐️
Editable student response pages / slides
Teacher guides with extensions, suggestions to layer in depth, modifications & troubleshooting
The author's email (Kerry Tracy) is inside all resources, so you can reach out with questions any time. Kerry aims to respond within one business day, and often replies same-day.
⭐️ There are 44 weeks of bell-ringer format / 44 days of the sub plan centers format provided (see images right). You will also get multiple, full sets of those activities if you prefer the stand-alone format. The easy STEM activities included in the bell-ringer format are: STEM Improv, Would You Rather, Analyze This vs. That, 8 Ways to Use & See-Notice / Think-Wonder
Here's What Teachers Have to Say About These Easy STEM Activities:
---
"Perfect for stations!"
– Jen S., 3rd-7th
(Review of 45 Quick Builds)

---

"This is great for center use. I like how adaptable it is for all age groups."
– Tamara H., 1st-5th
(Review of STEM Design Domino)

---

"This was a great resource. I added it to my emergency plans.
The students love creating with them.
Thank you for a wonderful resource."
– Naomi T., 3rd-5th
(Review of Bell Ringers Sem. 1: Analyze This vs. That, Would You Rather, STEM Improv, 8 Ways to Use & See-Notice / Think-Wonder)

---

"I started using these sat the beginning of my stem classes.
It has improved discussion and open ended thinking."
– Donna K., 3rd-4th
(Review of Bell Ringers Sem. 1: Analyze This vs. That, Would You Rather, STEM Improv, 8 Ways to Use & See-Notice / Think-Wonder)

---

"Love [these] resources. Great to have time at the beginning of the hour to get class started while kids are engaged in a quick stem activity." 
– Jodi T., 7th-8th
(Review of Bell Ringers 44 Pack: Analyze This vs. That, Would You Rather, STEM Improv, 8 Ways to Use & See-Notice / Think-Wonder)
---
Build STEM Brains in 30 Minutes
or Less – without the Overwhelm!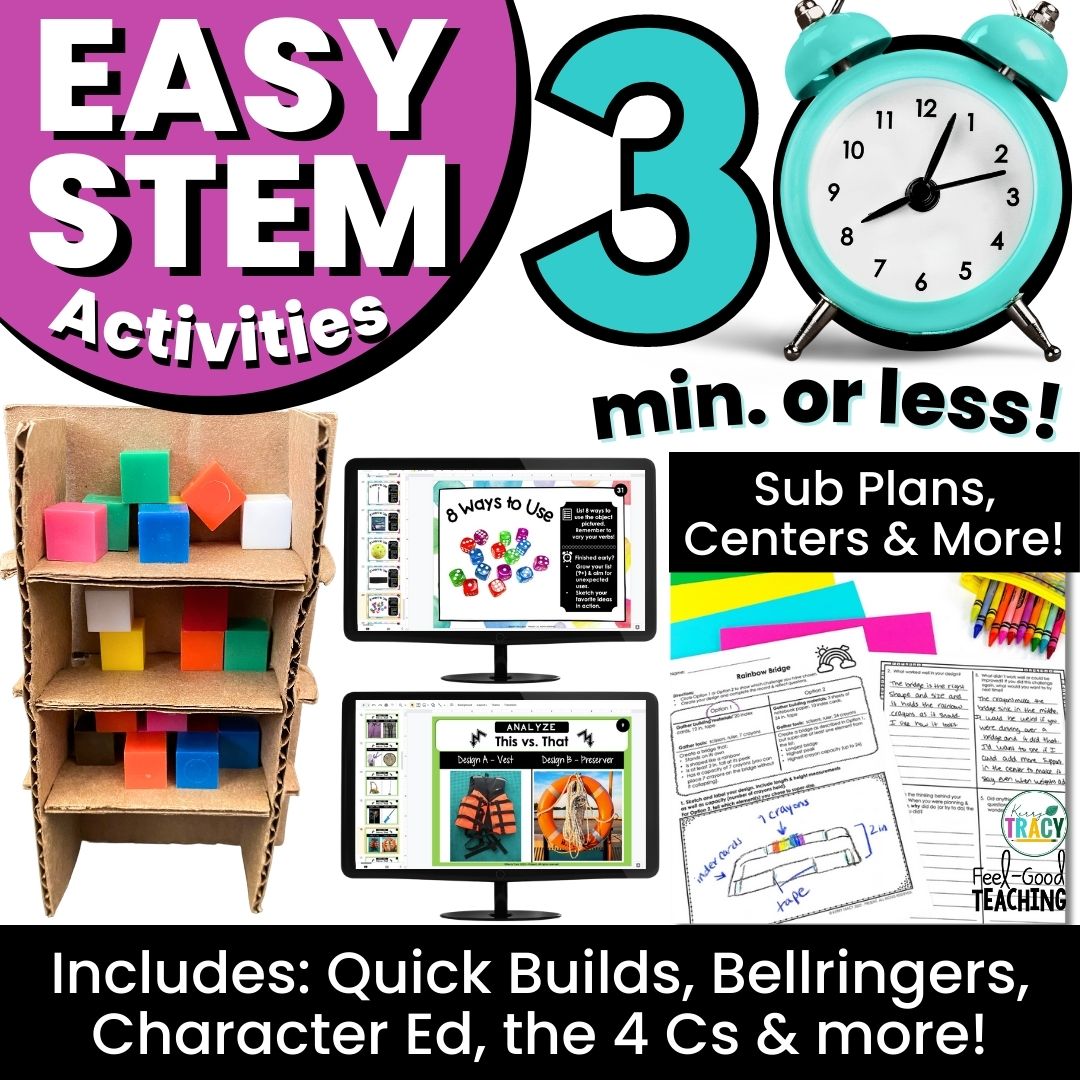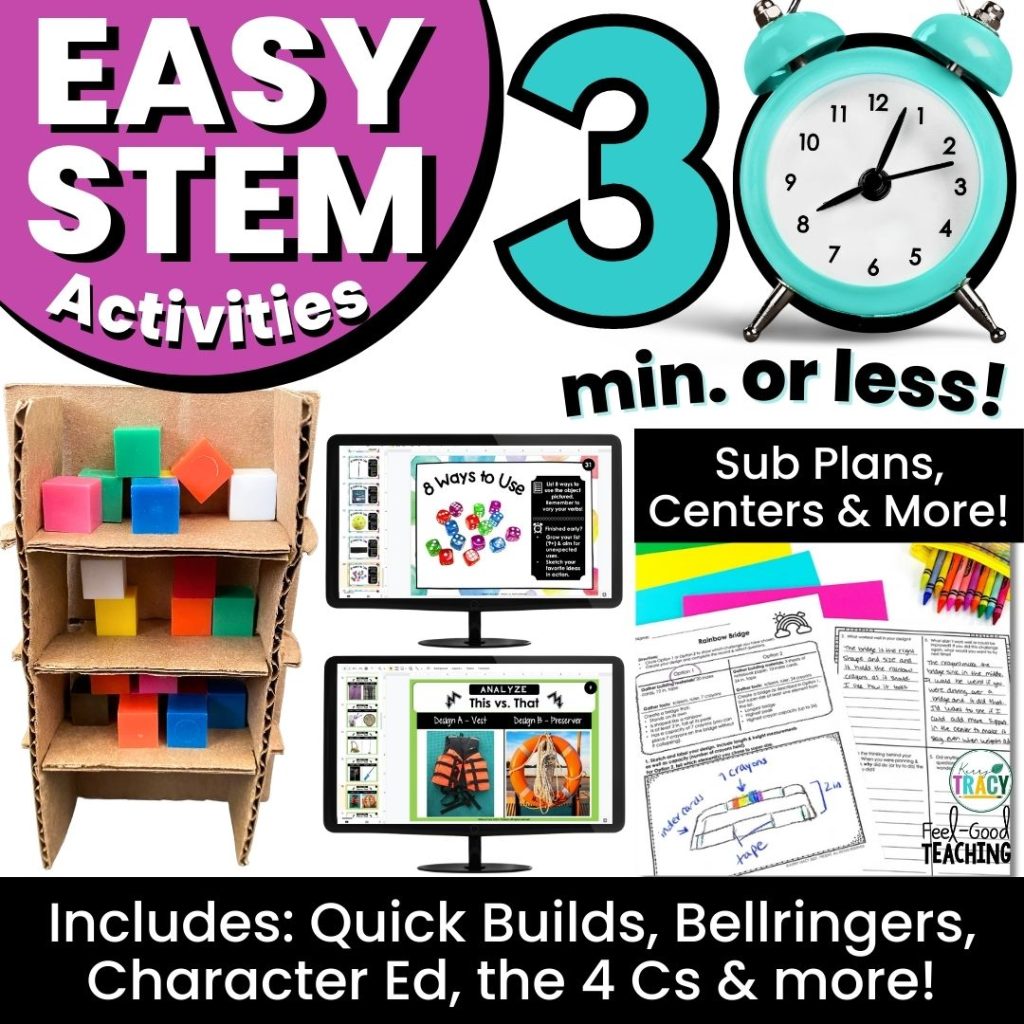 Buy the Bundle on these Platforms:
Life's too short to be buried in STEM planning!
Give yourself the gift of time without worrying your students are getting the short end of the stick.
This kit is a no-brainer for educators who want to:
❤️ Provide engaging and easy STEM activities to keep students working individually or in centers while you give yourself few minutes of peace to take attendance or just to gather your thoughts. 
❤️ Stop spending your hard-earned money on materials! These easy STEM activities don't require a ton of materials. In fact, most require no materials beyond paper & pencil (and if if you have 1:1 tech, you won't even need that)!
❤️ Know you aren't just "filling" time. Create an environment that nurtures higher-order thinking with activities thoughtfully created to focus on often-neglected areas students need in STEM & in life:
developing the critical thinking necessary to analyze designs effectively
developing creativity, collaboration, communication & curiosity
learning to think through design planning
Check out these 5 quick & easy activities for the 4 Cs of Engineering that you can implement right away!
🥰 Ready to make your teacher life easier
… and keep the challenge alive for students? 🥰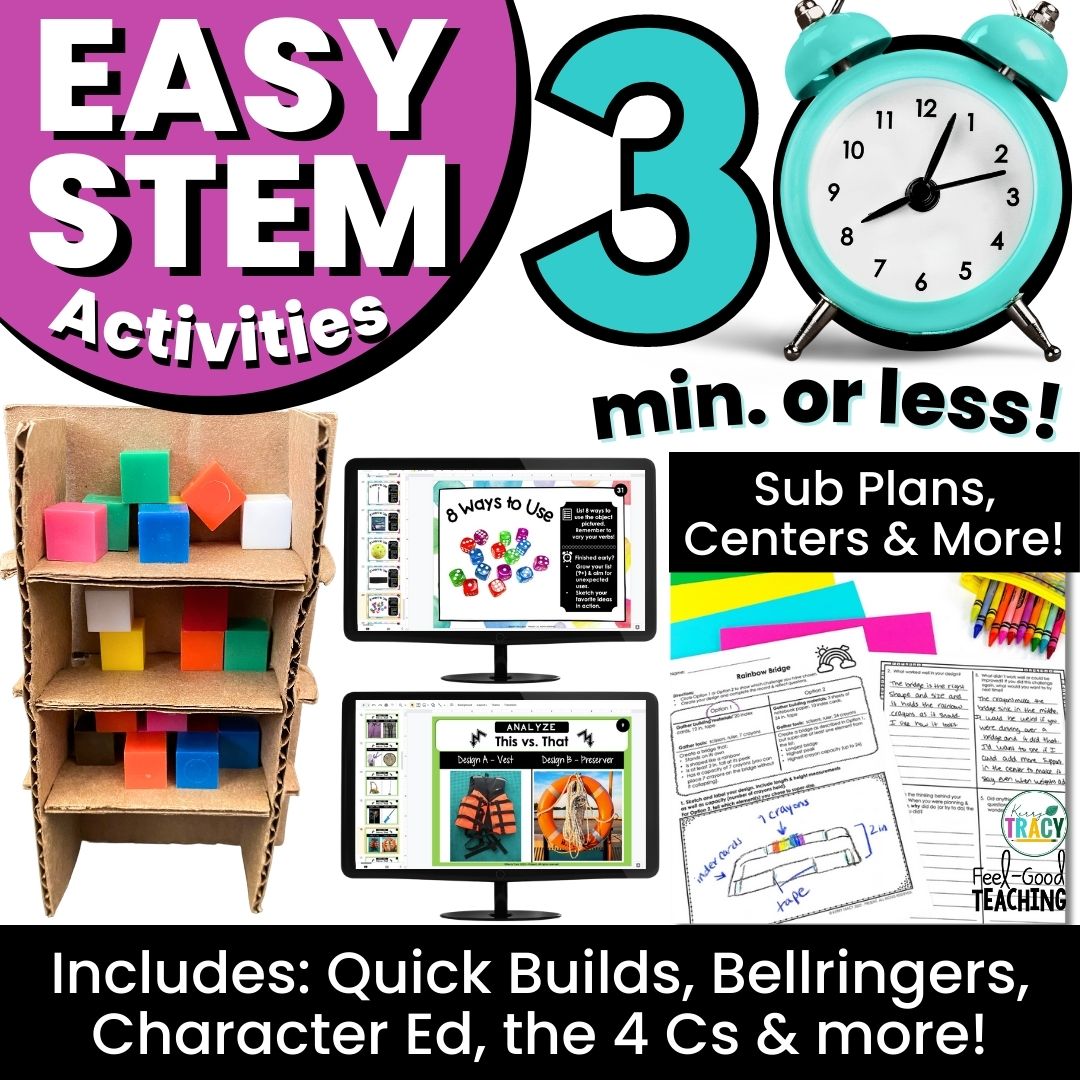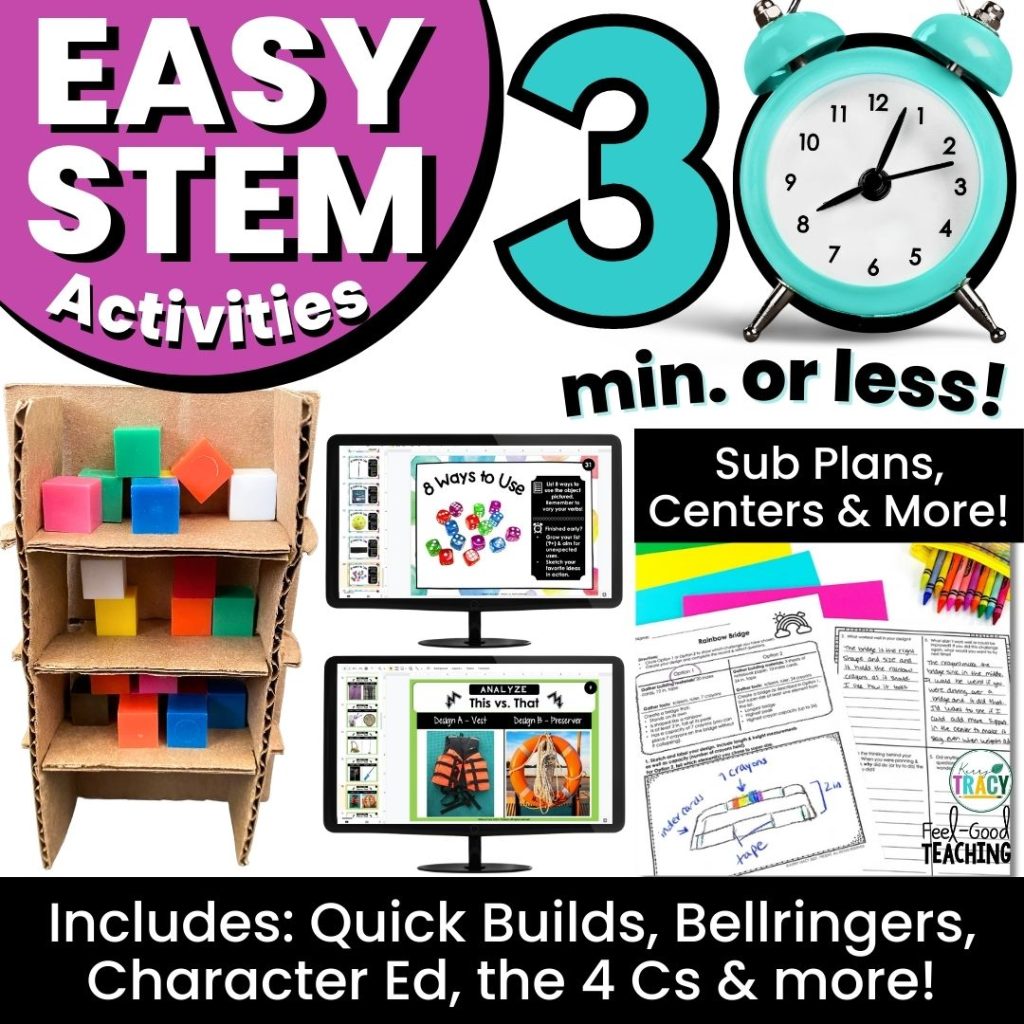 Buy the Bundle on these Platforms: