Build a House

Build an Essay

Gather materials

Gather ideas/brainstorm

Make a blueprint

Outline

Construction

Drafting

Finish work:

Make it a home. Add windows, moulding, maybe some paint, furniture, etc.

Revise:

Make it enjoyable to read! Consider modifying sentence
structure/flow, addressing the audience, opening paragraphs, closing
paragraphs, transitions, descriptions/word choice (action verbs, strong
adjectives, figurative language, etc.), voice, mood, and tone, etc.)
To avoid an absurdly long post, I'll focus on one step at a time in this four-part series of teaching writing posts.
Step 1: Brainstorm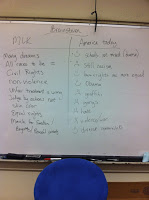 A. A. Hicks House 1 via photopin (license)
Gloomy Barn via photopin (license)
09_09_2010EOS REBEL T1i5913 via photopin (license)
Minha porção pesquisadora II via photopin (license)