You've gotten your students almost to the finish line of a persuasive or argumentative writing essay, when you realize some of them got it and some of them … not so much.  Revising — well, that was the trickiest thing for me to figure out when I started teaching writing. (If you're just getting started with your persuasive writing unit, check out this free lesson on addressing the audience or these persuasive writing resources.)
The problem with getting students to revise effectively usually springs from one of two issues with your directions:
You've been too vague

Do you give students time to "revise & edit" their essays to "make them better" and basically leave them to their own devices? Some will know how to use that time effectively, but many will flounder, unsure of what they can do to make their writing better.
You've been way too specific with your directions. 

 

Do you give your students an overwhelming checklist of every possible nook & cranny to improve a piece of writing? Most people simply don't have the stamina for that, and they'll shut down quickly. They'll just check everything off the list whether they've done it or not.
So what's to be done? Here are my top 5 tips for helping students effectively revise their persuasive writing essays (note: much of this can be applied to other types of writing as well).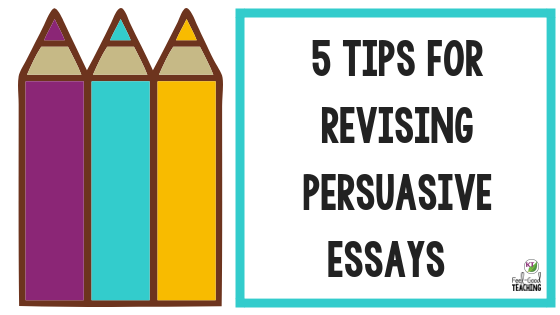 Tip 1:  Create a Hierarchy of Writing Skills
You need to prioritize what is most important in your students' writing. For me, organization is #1. If their thoughts aren't organized, their reader won't know what's going on and won't be convinced of anything.  I think of writing a lot like building a house: you've got to have a solid foundation, good bones (frame), and then you can work on dry wall, carpet, furnishings, etc.
Here's my hierarchy:
Organization

Opening paragraph

Hook
Transition to thesis
Thesis statement that includes stated position and body paragraph subtopics

Body paragraphs

Matches the thesis statement order
Body paragraphs are of similar length

Closing paragraph

Connects to opening paragraph hook
Restates thesis
Call to action

Content

Quality of argument/evidence provided

relevant to the topic
compelling to the audience
from a valid source

Quantity of argument/evidence provided

there is enough provided to convince the audience or your position without going overboard

Opposing views addressed

Flow & Word Choice

Sentence structure is varied (long & short, complex, compound, etc.)
Care is taken to swap about bland words with better options (e.g. nice enticing)
Figurative and/or sensory language is used where appropriate

Capitalization/Usage/Punctuation/Spelling (CUPS)
Voice

Special touches — like humor — that give the writing personality and make it enjoyable to read
You may be inclined to swap elements of this hierarchy, and I'm sure there are solid arguments for that. You don't have to agree with me, but you do need to decide on a hierarchy of skills so you can help your students focus in the right areas!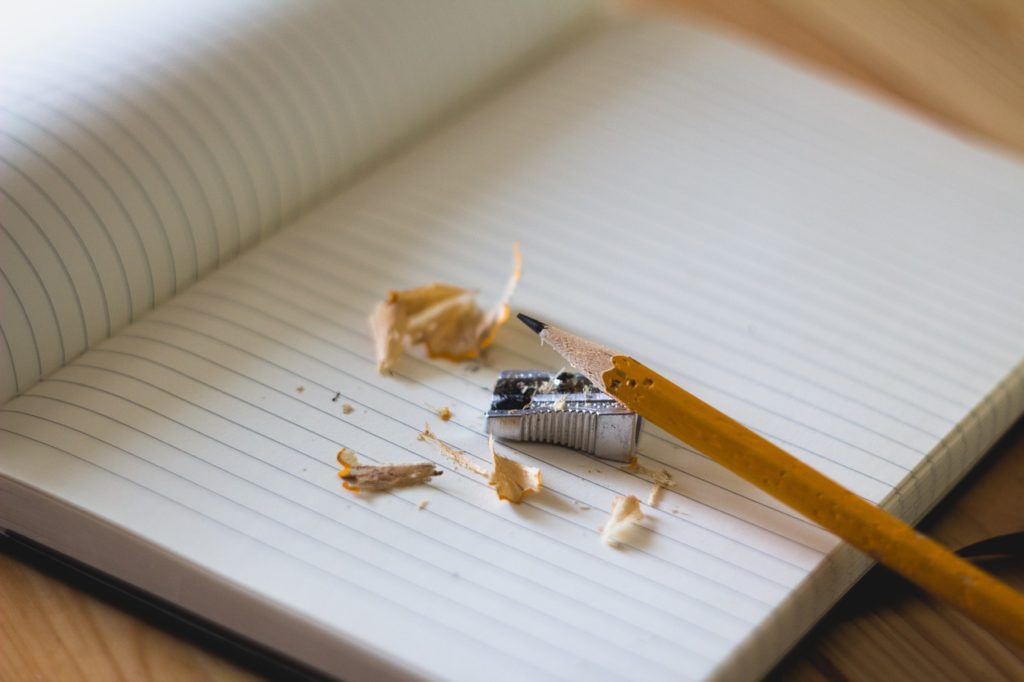 Tip 2: Choose 1 or 2 or 3 Things
If you give a simple focus, it's more manageable and students won't run out of steam trying to make their entire essay "better". If you feel strongly that more is needed, break it up over several days so that students are revising their drafts each day with just 1-3 focus areas. These may be whole-class (see tip 3) or individualized (see tip 4). Always have students mark where they have made a change based on the required revision to keep them accountable and to make it easy for you to check it has been completed.
Tip 3: Choose a Whole-Class Focus
For time and practicality, it makes sense to issue some whole-class focus areas for revising. Sometimes I'll choose just one thing for students to apply to the entire essay; other times we focus on a different skill in each paragraph.
Here are some whole-class revising steps to try (remember, choose just 1-3 on any given day):
Check your opening paragraph:

Underline the hook.
Draw an arrow by your transition to thesis statement.
Circle your thesis statement.

Put a star by where you stated your position.
Put a "1" "2" "3" above the body paragraph subtopics in your thesis statement.

If you're missing any of the elements, add it now.

Check your closing paragraph:

Underline the connection to the hook.
Circle your re-stated thesis.

Put a star by where you re-stated your position.
Put a "1" "2" "3" above the body paragraph subtopics in your thesis statement.
Check that the re-stated thesis using different words or structure in the closing without changing the meaning of what you wrote in the opening.

Highlight your call to action.
If you're missing any of the elements, add it now.

Circle the first word in every sentence. If any two consecutive sentences start with the same word, you must change one. (No two consecutive sentences in a paragraph may start with the same word.)
Underline every "and" in the essay (if you've got run-on issues.) No sentence may have more than one "and" in it.

I always stress to students that it is possible to have more than one "and" and still be grammatically correct, but at this time, it's the rule. If a student does manage to use it correctly, of course that is fine.

Count the words in every sentence of the first body paragraph. Are they all about the same amount? Change something so there is variety! Try breaking up a long sentence into two short ones or combining two short ones to make a longer one. Read it aloud to see if sounds better with the changes.
Highlight examples or current skills. Learning about complex or compound sentences this week? Have students highlight at least two examples of complex sentences in their essays. This forces them to apply the skill and should result in better sentence flow. Make them highlight it for you in the final essay, so you don't have to hunt for it!
Circle or underline every verb (or adjective) in every body paragraph. Replace at least one verb (or adjective) per paragraph with another that is more precise, stronger, or more interesting than your original choice.
Tip 4: Use Rubrics
Providing individualized feedback is important too, of course. That's where your hierarchy comes into play. If a student's organization isn't solid, that's the only area I have them worry about until it is.
Your rubric should be organized based on your hierarchy. Take some time to discuss the rubrics with your students so they understand the rubrics were created in order of importance. This allows you to quickly help students understand what will give them their biggest bang for their buck with revising.
I am a huge fan of Rubistar for creating tailored rubrics.  They give you a great base to start with and you can tweak the options to your liking, based on a holistic approach, or individualized for specific students. For example, I have a holistic persuasive writing rubric I created in Rubistar ordered with my hierarchy in mind and using my terminology. I use it to grade essays, and I also give it to students ahead of time for revising activities.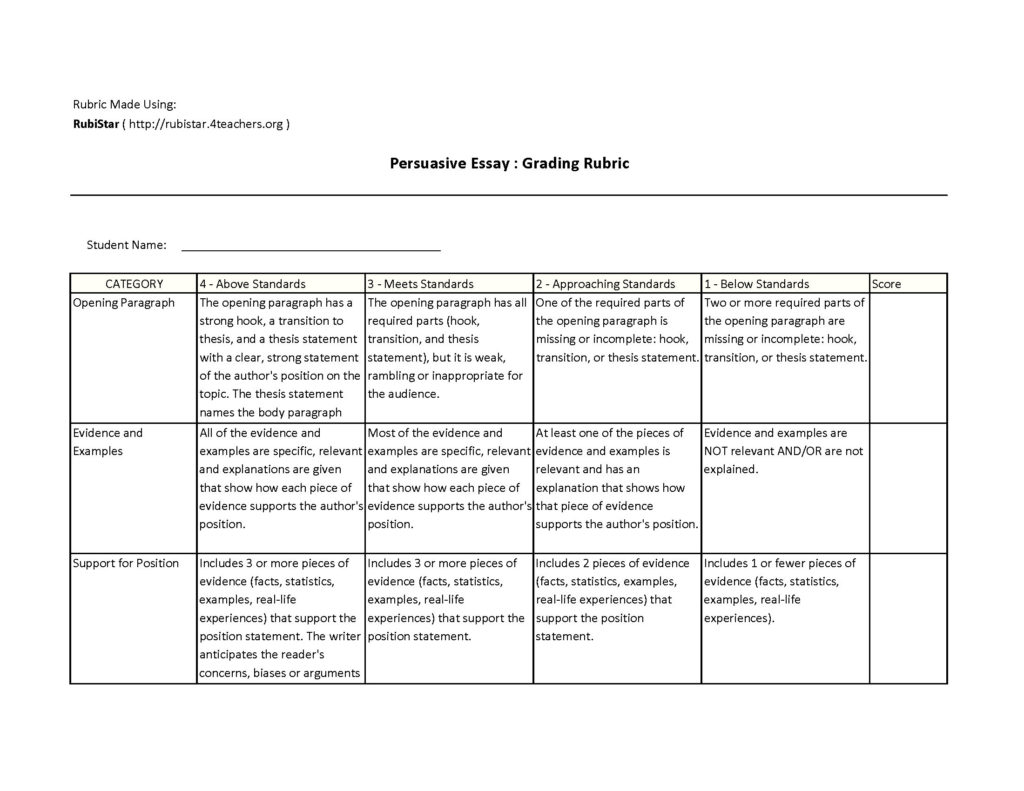 For me, organization and content are king! Those areas are more important to students improving writing (and grades) than any other area (the caveat being if CUPS is bad enough, you might not be able to understand anything you're reading).  In that case, you may need to create a flipped hierarchy for some students.
In addition, I create some rubrics for specific revising days. Two examples are Revising: Opening & Closing Paragraphs and Revising: Content. This makes it easy to narrow focus in whole-class and small-group revising lessons.
Want copies of three of my editable and print-ready persuasive writing rubrics (modified from Rubistar)?

Tip 5: Peer Review & Read-Alouds
Students can hugely benefit from revising with peers as both critical readers of others' work and in receiving feedback from multiple people before submitting for a grade. Here's what I do as often as I can with essays just prior to final drafts:
Make three copies of the grading rubric for each student
Have students turn in their latest draft to you (if you worry about privacy, have students number rather than put names on their drafts).
Pass the essays out randomly.
Each student completes a rubric for the essay they're reading.
Each student passes the essays to the right to repeat the process with a new essay.
Repeat one more time.
Even if a student doesn't have an essay, s/he still participates as a reader. The experience is helpful for reluctant and struggling writers. This might mean not every student is reading a paper in each round. For "free" rounds, students may read a free-choice book or work on another assignment. Take care that no student misses more than one round.
It might be too much to grade a full rubric for your students. Remember, it's easy to create rubrics with a narrow focus on Rubistar!
Read Aloud
One other quick way for peers to assist each other is to read their partner's essay aloud to him/her. This makes it easier for the author to hear where s/he left out a word or where the flow of content breaks down. It's helpful for the author to read aloud his/her own work as well, but not as effective because authors often say what they meant, rather than what is actually written on the paper. Switching with a partner takes away that little gift your brain gives you by auto-correcting your mistakes!
All right, that's it for today! Let me know if you have any questions or if you've got some great revising tips to share in the comments!
PIN ME