Hey there, STEM enthusiasts! I've got 5 STEM activities for you today to dive into character education, curiosity, and more of the 4 Cs of Engineering. This is the fourth installment in our 30 STEM activities in 30 minutes or less series. Don't worry if you've missed the previous posts, you can click that link above to catch up. 🥰
My goal remains the same with each post in the series: to provide you with easy yet challenging STEM activities that you can implement in a flash with at least one free resource each post. This post has 3 freebies!
So let's goooooo!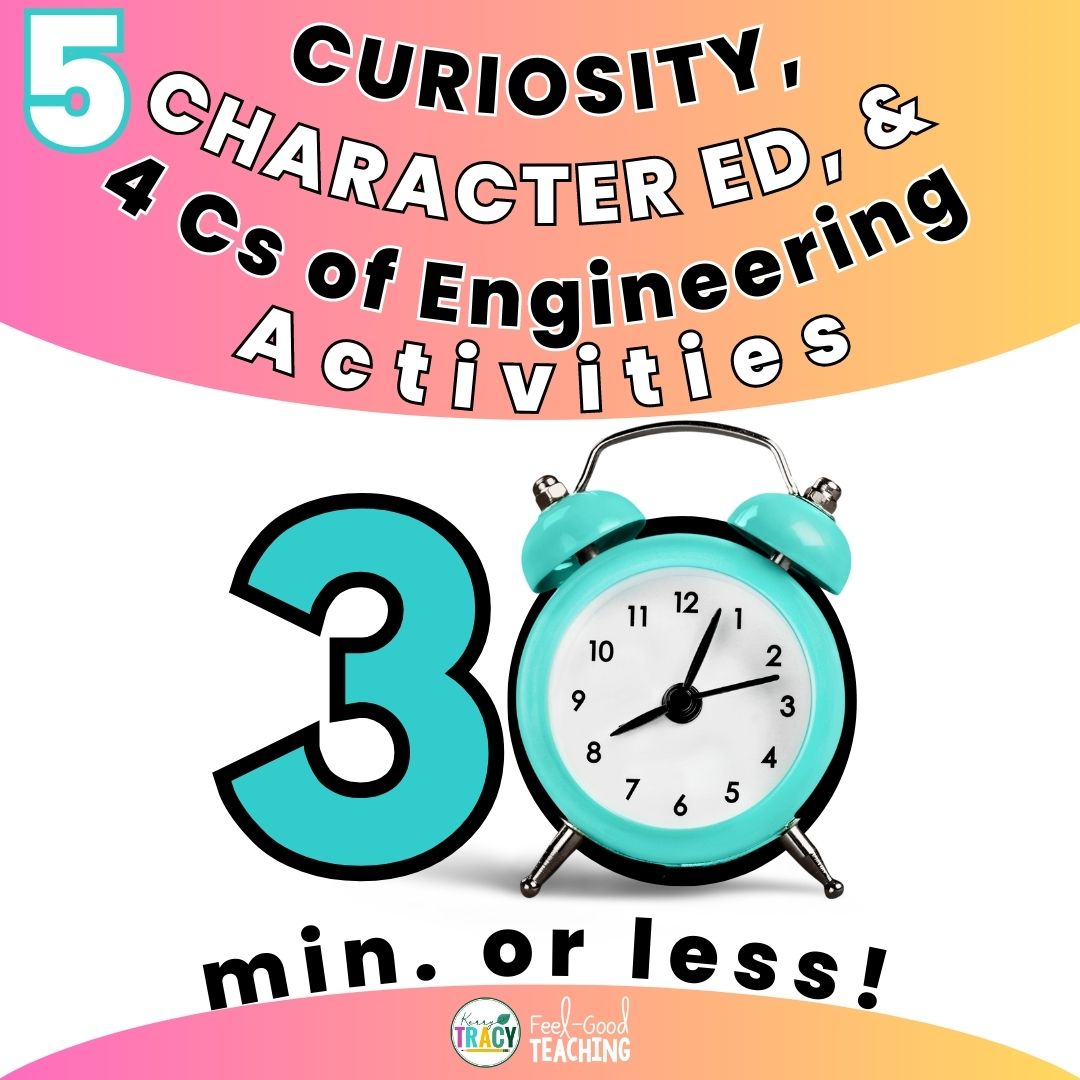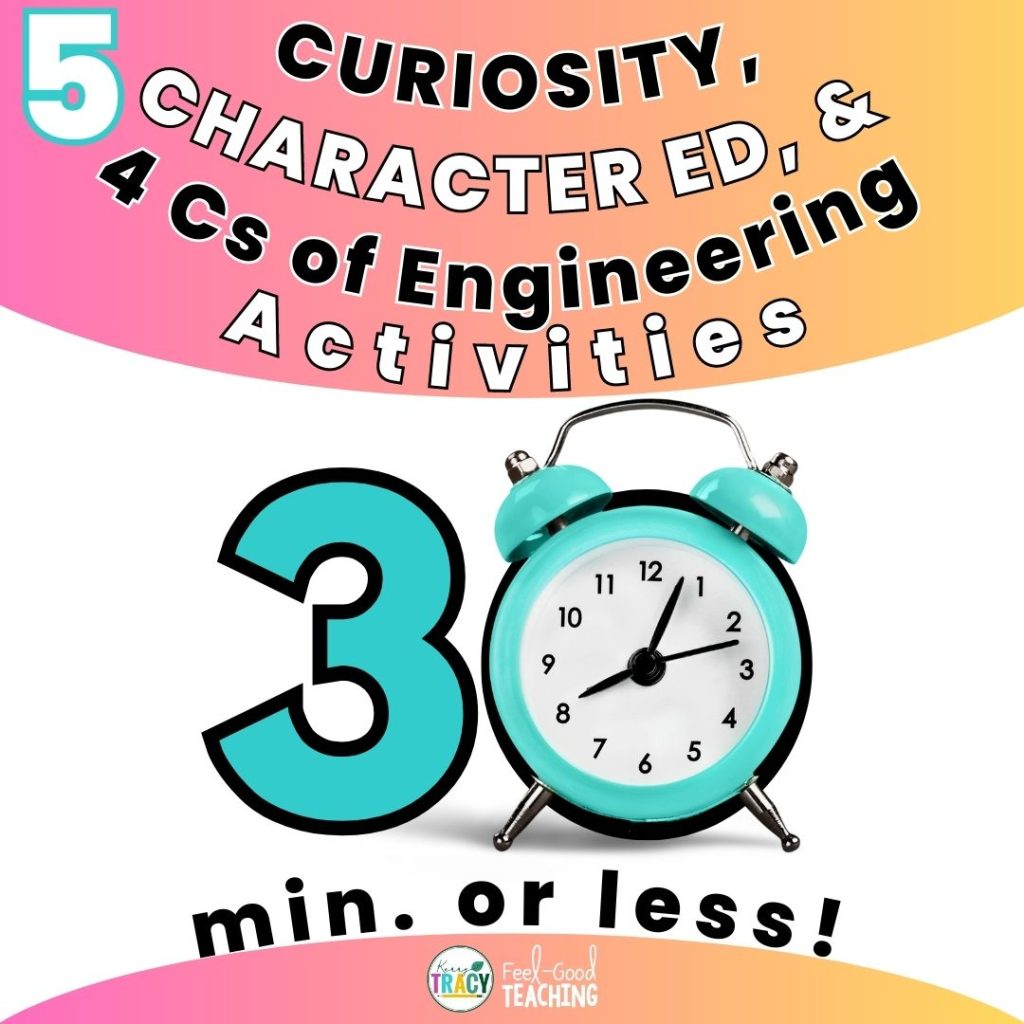 ---
Easy STEM Activity #16:
See-Notice / Think-Wonder
(Curiosity, Observation, Divergent Thinking)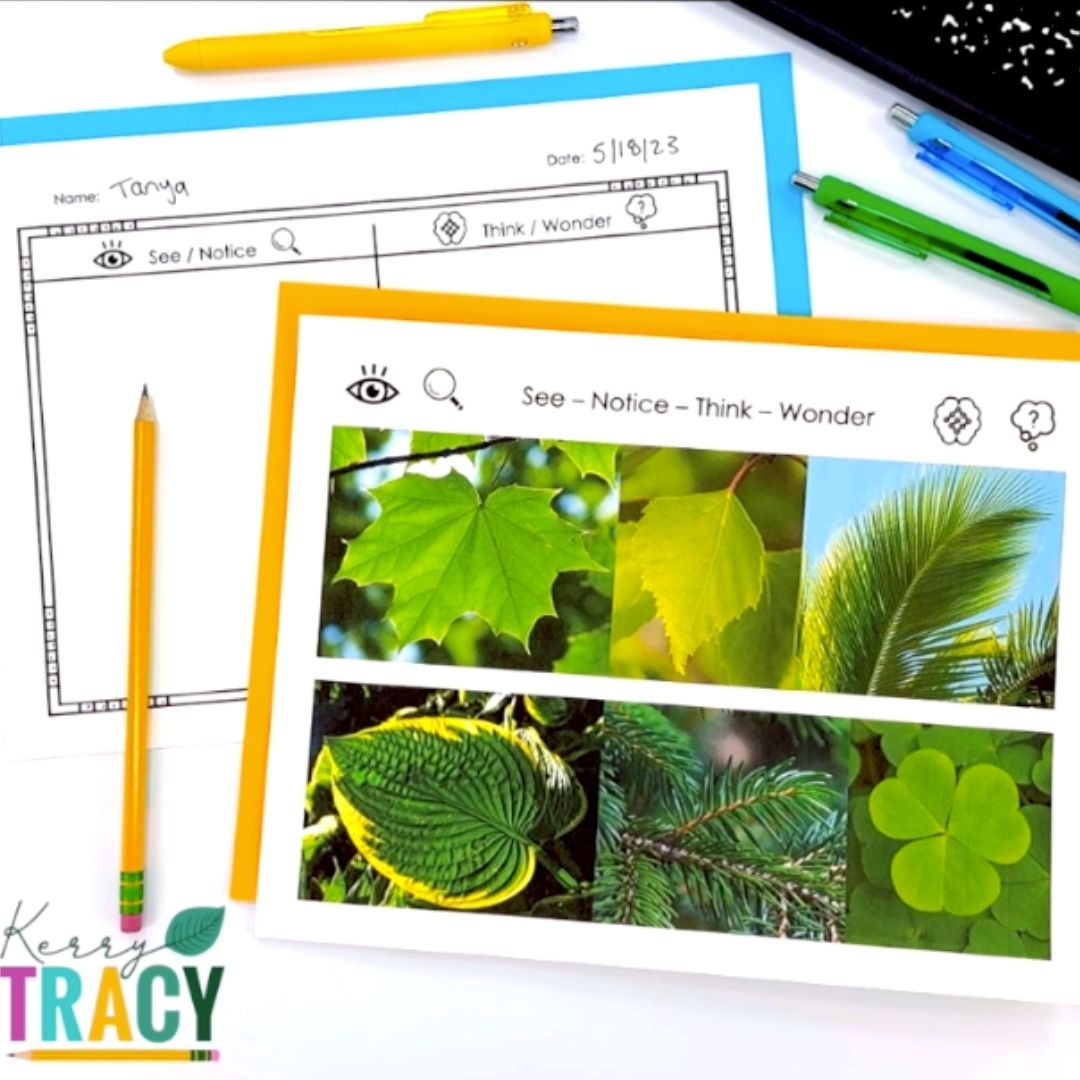 What better way to begin your science and STEM lessons than by sparking curiosity and wonder in your students? See-Notice / Think-Wonder invites students to engage with intriguing images, igniting their natural desire to explore and discover.
This quick activity helps students practice observing, thinking & questioning. The purpose is to help students slow down, quiet, and focus the mind & set up an environment that gives students the time & mental space needed to develop curiosity & divergent thinking.
It's a mindful way to begin class. Just post an engaging photo related to scientific concepts and give 3-5 minutes to write down everything they see, notice, think & wonder. To get the most from the activity, it's helpful to add a few extra minutes afterward for students to share their thinking whole-class. You'll be surprised what they come up with!
You can use photos from your personal collection or online, or you can pick up these themed Life Science & Earth Science sets. I've also included some sample See-Notice / Think-Wonder photo cards in the bell-ringers freebie linked at the end of this post to make things even easier for you! 🥰
---
Easy STEM Activity #17:
STEM Ideals
(Character Ed.)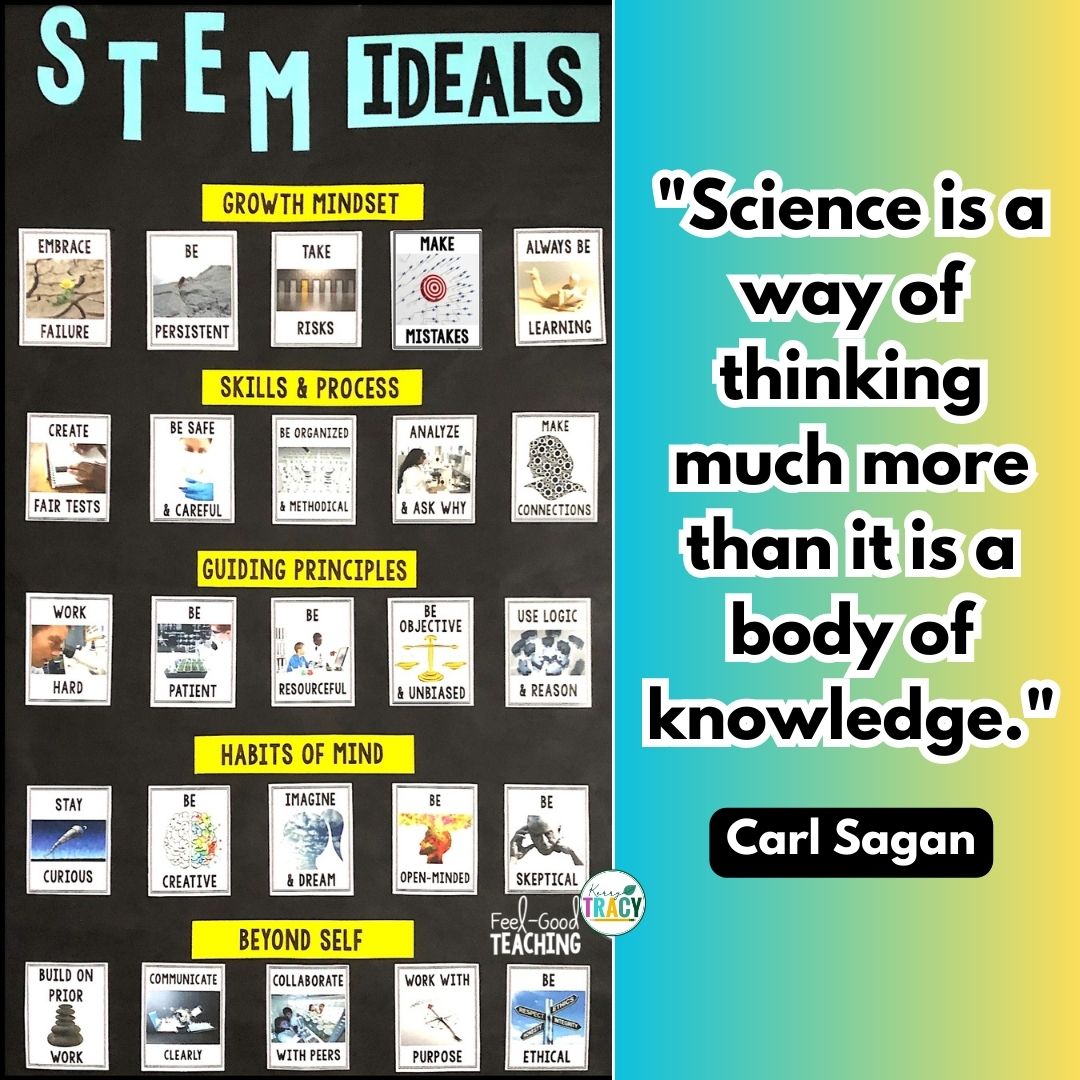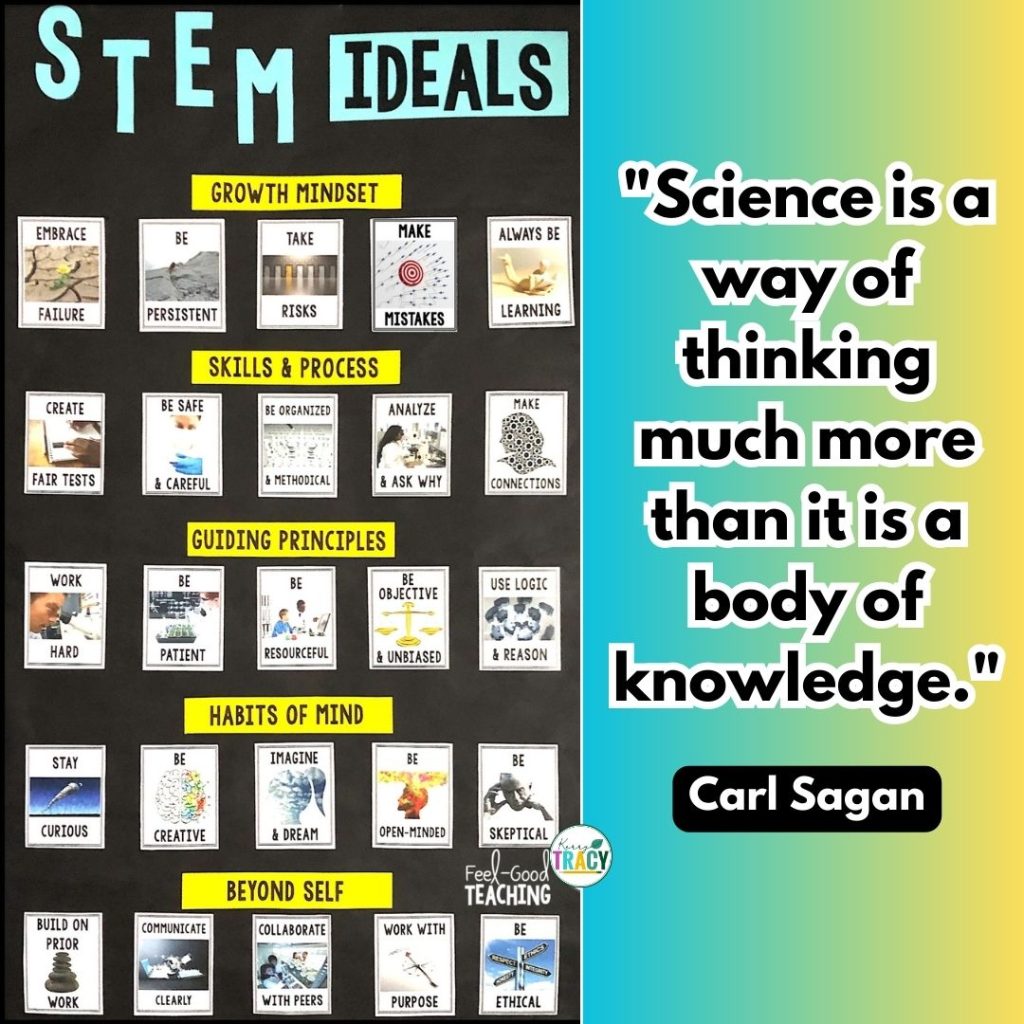 I am biased, but I LOVE the STEM ideals series for character ed in any classroom. The traits selected aim to identify the special way scientists, and really all STEM Pros, think and behave so we may better practice the traits ourselves! It's typical to see growth mindset encouraged – and it's an important piece, but it doesn't tell the whole story! That's why I created this set of 25 ideals in 5 categories: Growth Mindset, Skills & Process, Guiding Principles, Habits of Mind & Beyond Self.
And here's the best news: you can try the Guiding Principles STEM Ideals set of posters & activities for FREE!
---
Easy STEM Activity #18:
Physical Properties of Building Materials
(Critical Thinking)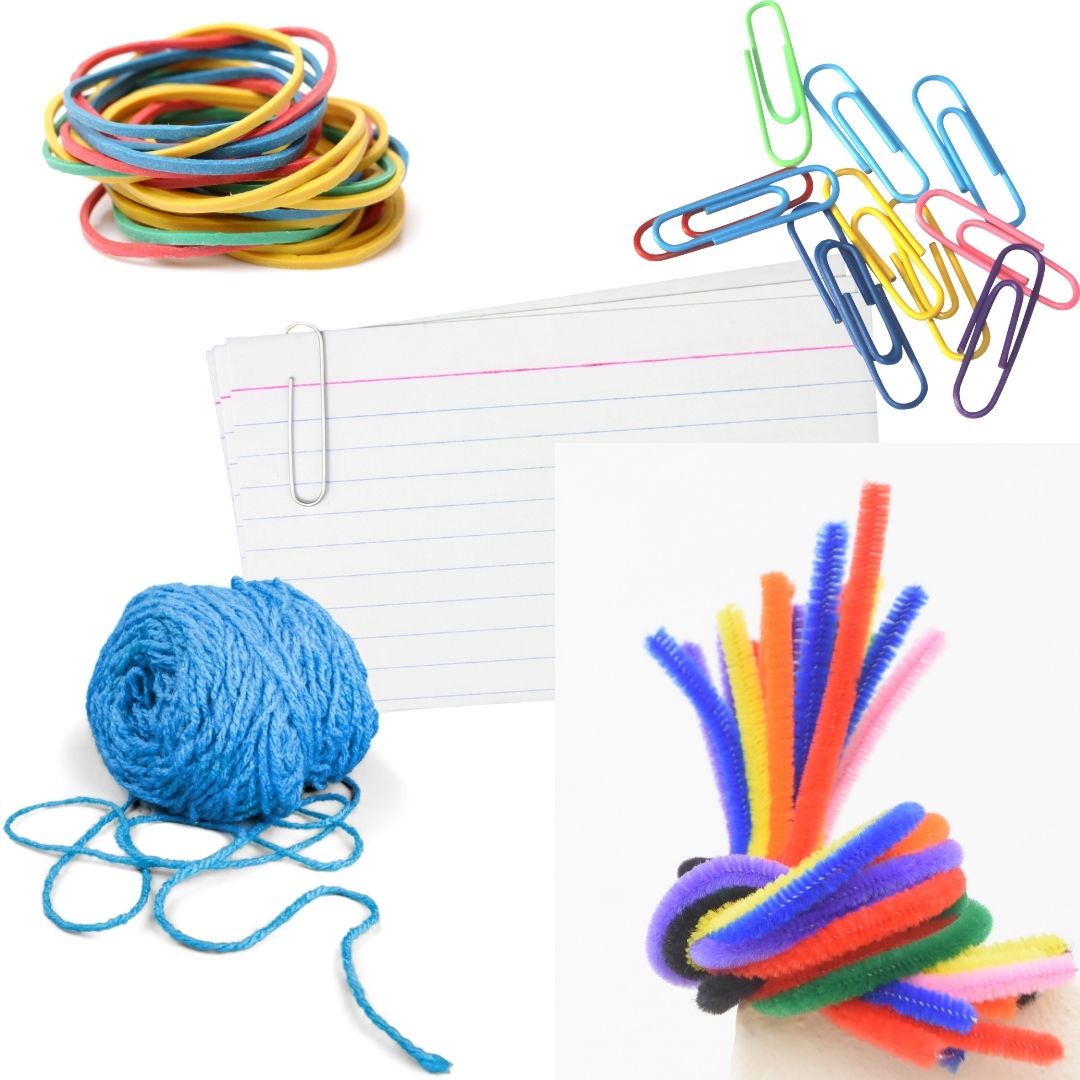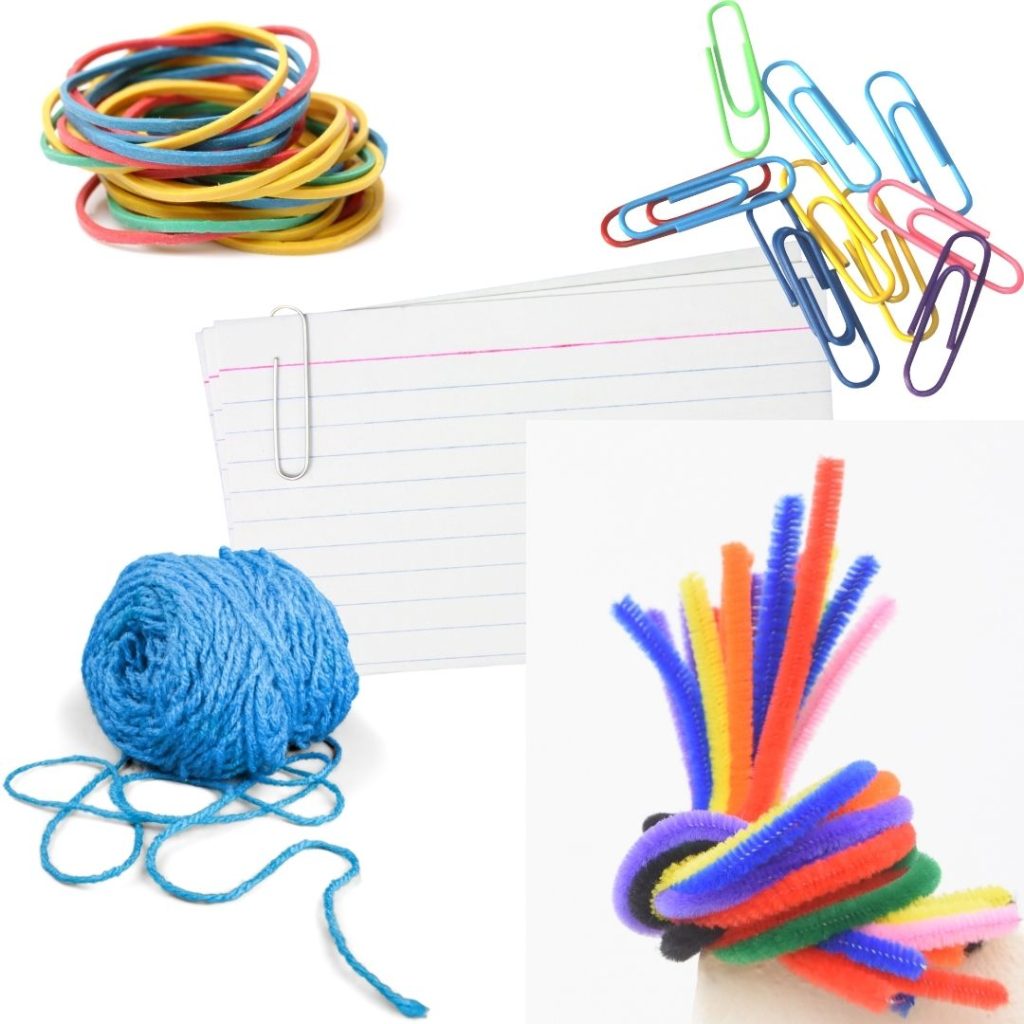 Every now and again, it's nice to have students help prep your materials. Consider having them bundle sets of 10 craft sticks, pipe cleaners, index cards. 12 in. strands of string, and other frequently-used materials. Set a timer for 5-10 minutes and have them create as many bundles as they can. This saves you time for prep down the road and also helps students take ownership of their materials.
That first part is to help you, but it isn't what we're here for! Once that timer goes off, have students list physical properties of the materials they were working with. Go a step further to build critical thinking by having students place materials in "families" and explain why they belong together. Then have them look for "anti-families" and explain whey the materials don't belong together. Next, have students take those "anti-families" and find reasons they could actually be "families" after all.
This activity is so simple, works for all ages, and requires so much more thinking than you'd expect on its surface. You can also do it again and again looking for a variety of different types of families with the same objects. The more objects (materials) you being with, the more options students will have to group them into families and anti-families.
---
Easy STEM Activity #19:
Make-Tac-Toe FREEBIE
(The 4 Cs of Engineering)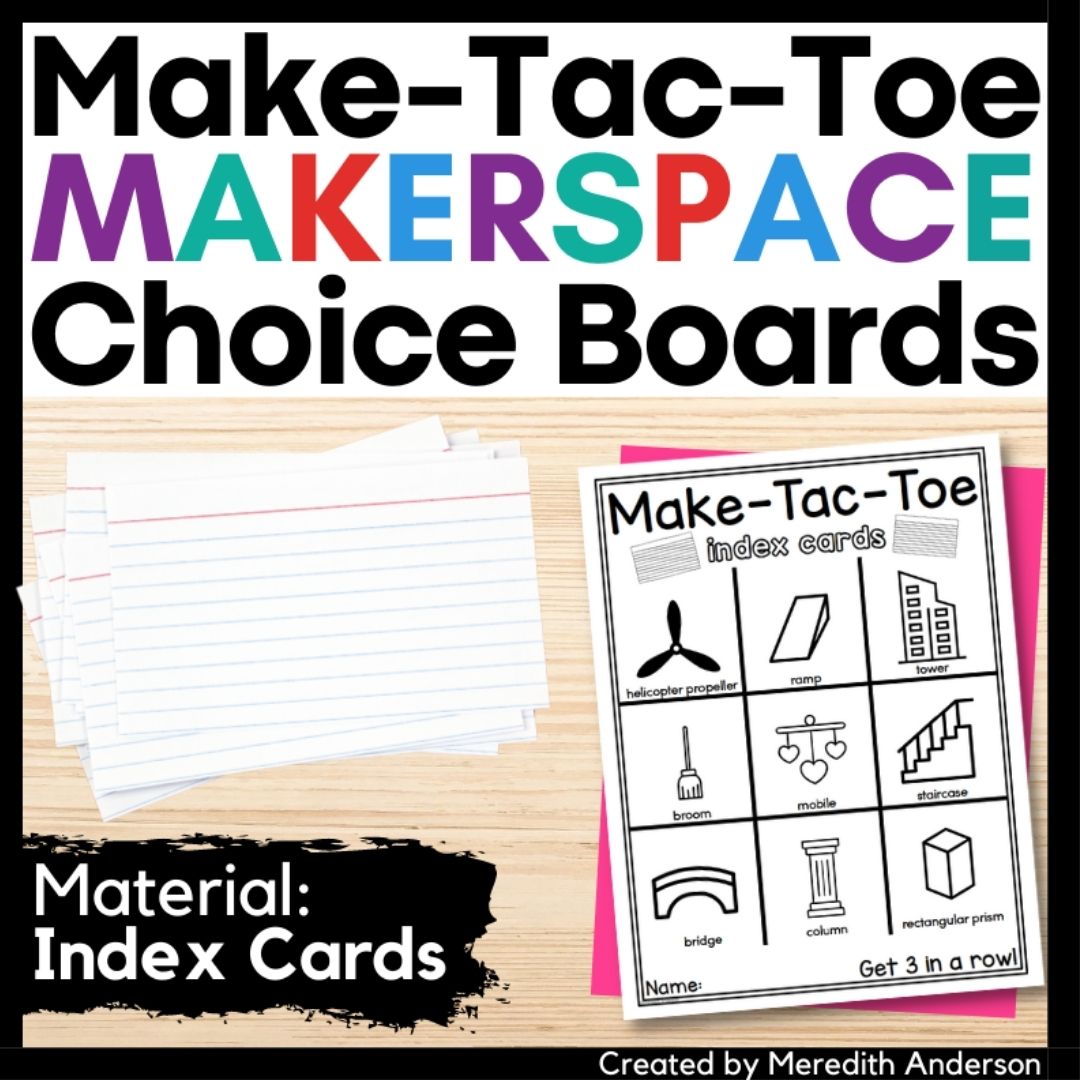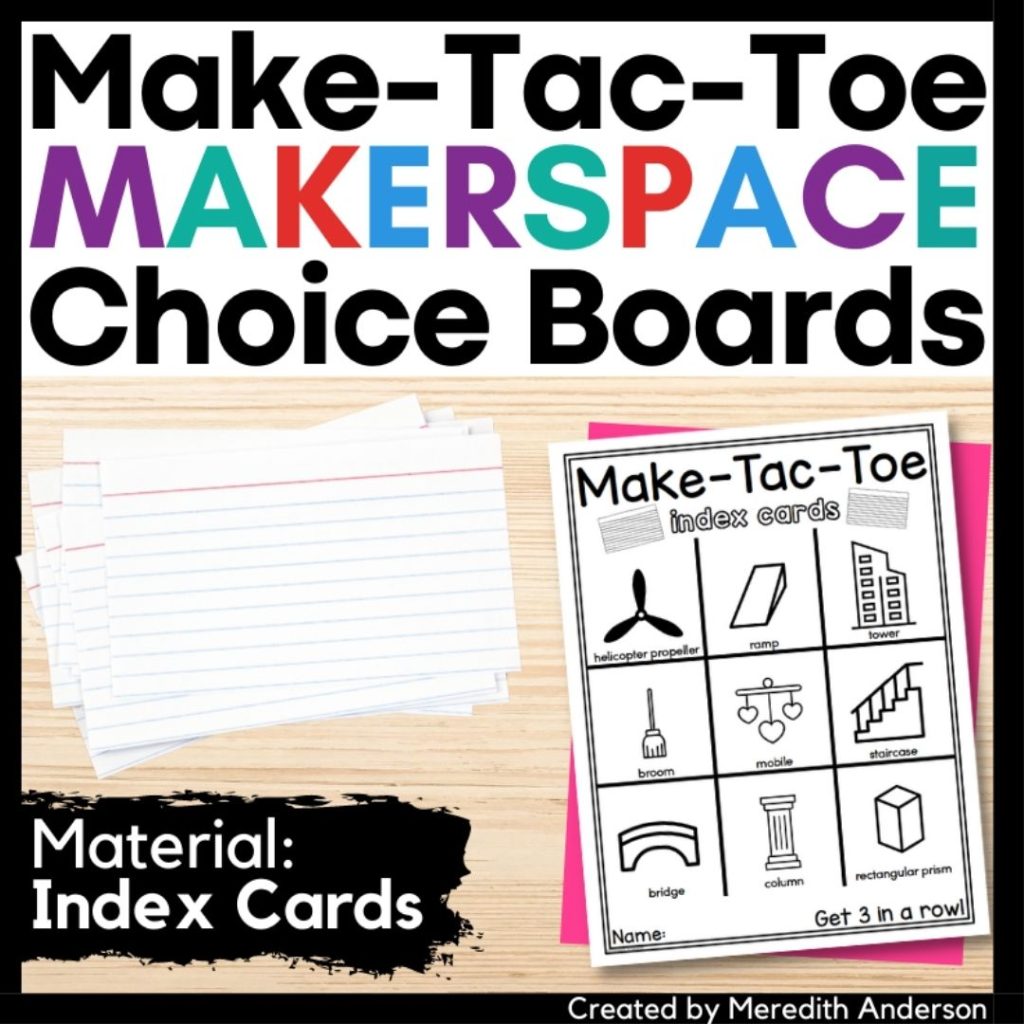 What do you get when you combine makerspace tasks with choice boards? Make-Tac-Toe! These highly engaging challenges are perfect for your makers, regardless of how much space you have 7 they're FREE!!! These tasks have been designed around a central material, so that students all start with a basic material and then pull in other materials as needed. This takes some of the guess work out of the materials portion of the makerspace challenge (and translates well to mobile STEM carts).
Makerspace tasks encourage exploration of materials and tools, may use instructions to complete a build, and are a way for students to build skills that will come in handy when completing STEM challenges. This is a great time for "experts" to share their knowledge and collaborate with others (you may have some students who are skilled at paper folding, using certain tools, or know how to create stable structures. Let them share their knowledge in your space!).
---
Easy STEM Activity #20:
Best Reviews
(Communication, Critical Thinking & Collaboration)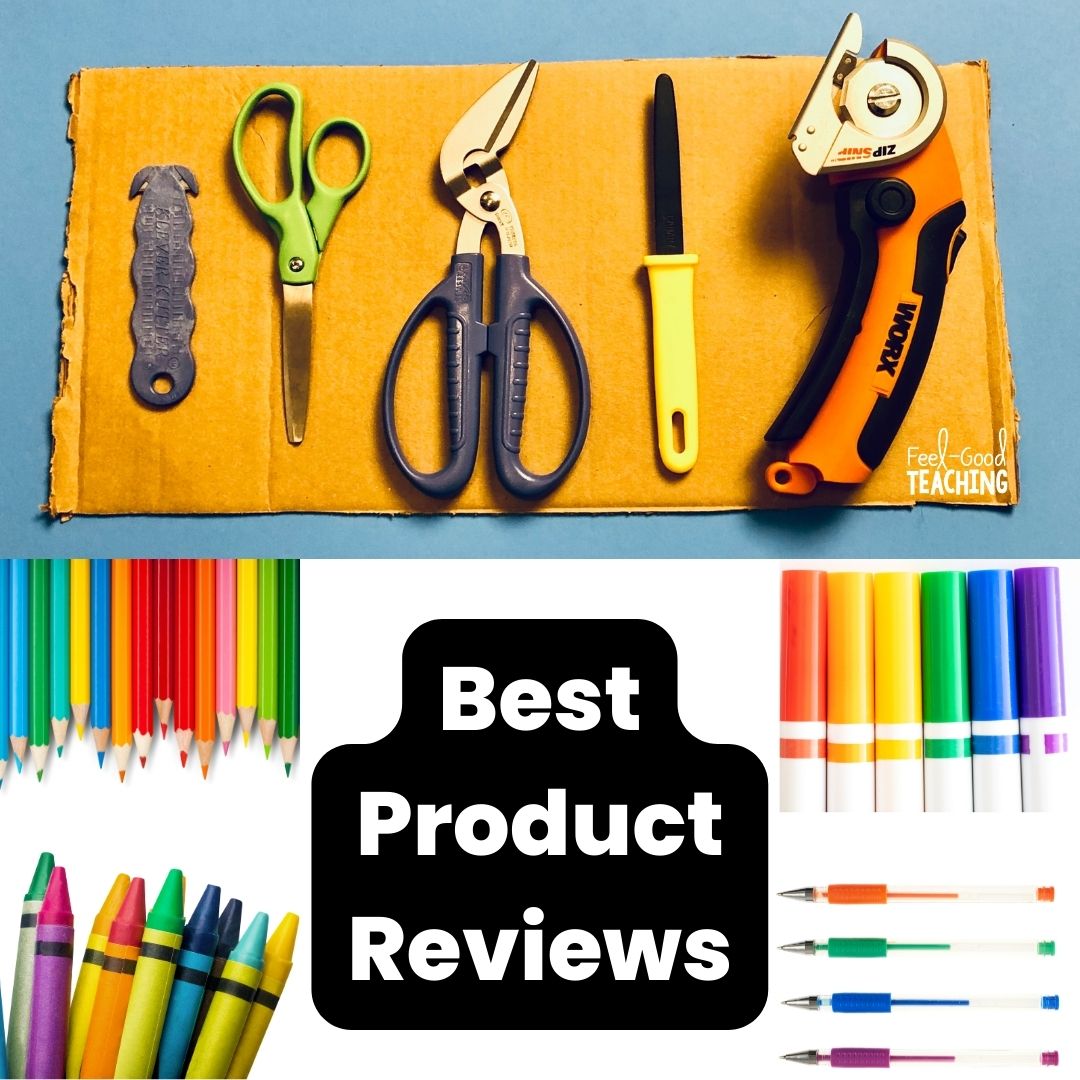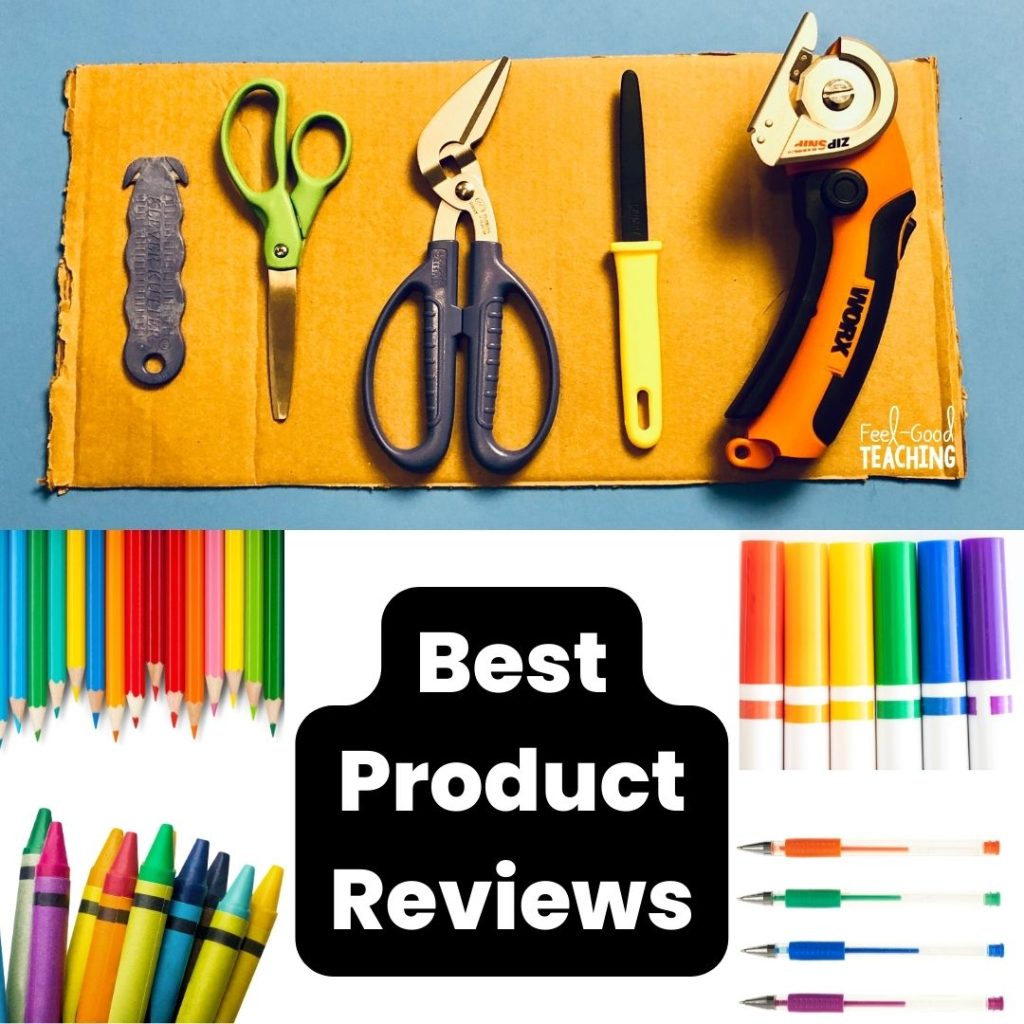 Have you ever used the site Best Reviews to make a buying decision? If not, here's a an example for Best School Rolling Backpacks. Notice the succinct, easy-to-follow format comparing and contrasting multiple products: Bottom Line, Pros & Cons.
Now imagine having students create their own Best Reviews pages for any number of objects from STEM tools & school supplies to everyday items they use at home or for play. I'd suggest reviewing some pages from Best Reviews first to get a feel for the format.
Then choose a group of objects to review & don't feel like you have to do groups of 5 items. You can slim that down to just 2 or 3 to allow students to have enough time to think critically & then communicate the information about each product succinctly. That's two of the 4 Cs of Engineering right there, and if you put students with partners or groups, you've got collaboration too!
What categories might you ask students to review? What about types of scissors or coloring implements (crayons, markers, pencils, pens)? You can also use items from the Analyze This vs. That series for more options. (There are samples of Analyze This vs. That included in the bell-ringer freebie at the end of this post.)
---
So that's it for the fourth installment of 30 STEM activities you can do in 30 Minutes or Less (< if you missed any, head back to the beginning). The next 5 ideas will focus on perseverance.
You'll find a link to that below as well as the Ultimate 30 Minute STEM Activities Kit that's packed with mind-bending activities that are easy for you & still challenging for students!
Don't forget to grab the 5-week free STEM Bellringers sampler at the end of this post that includes See-Notice / Think-Wonder activities to try out with your students. Enjoy!

"See" you soon!
---
Check Out the Ultimate 30 Minute STEM Activities Bundle: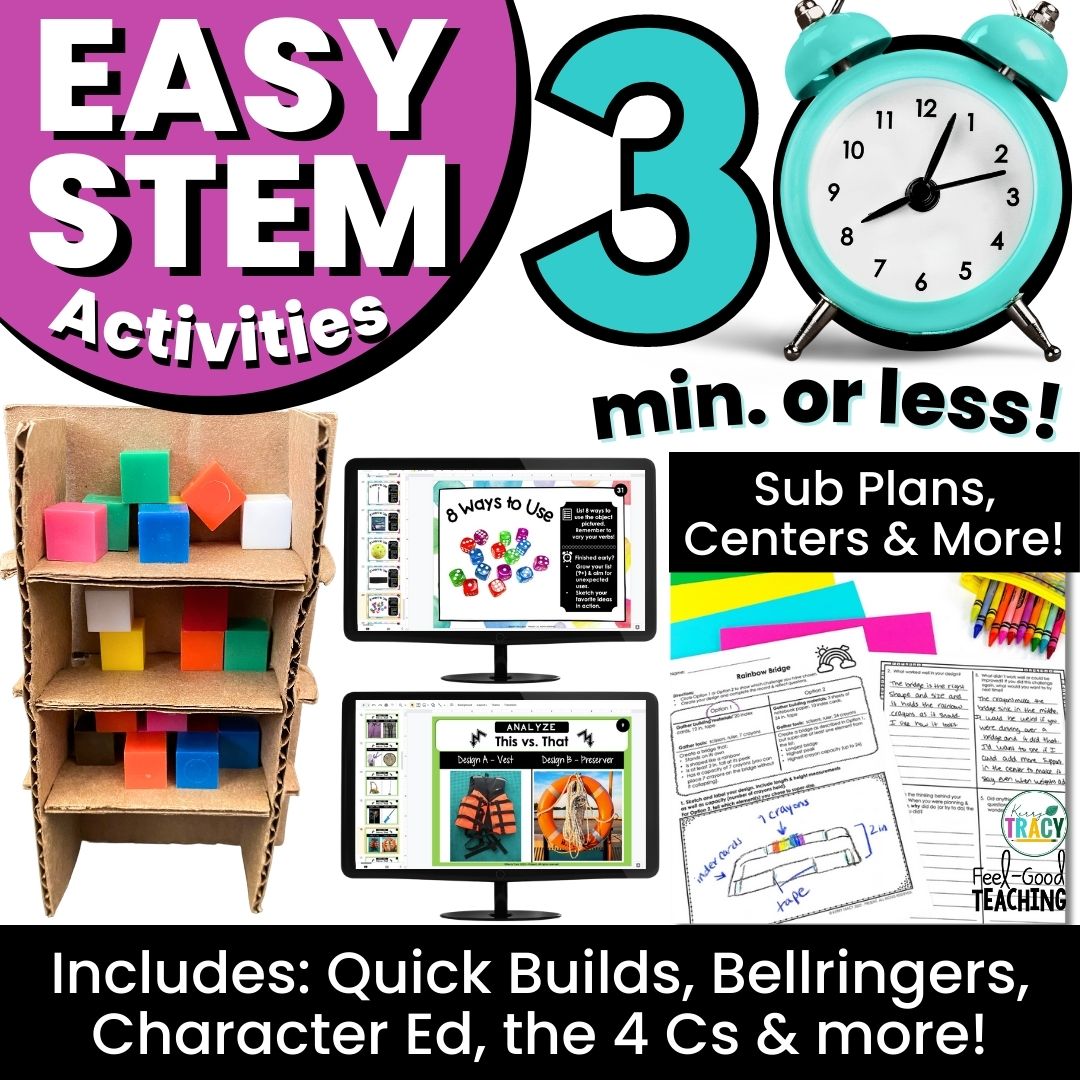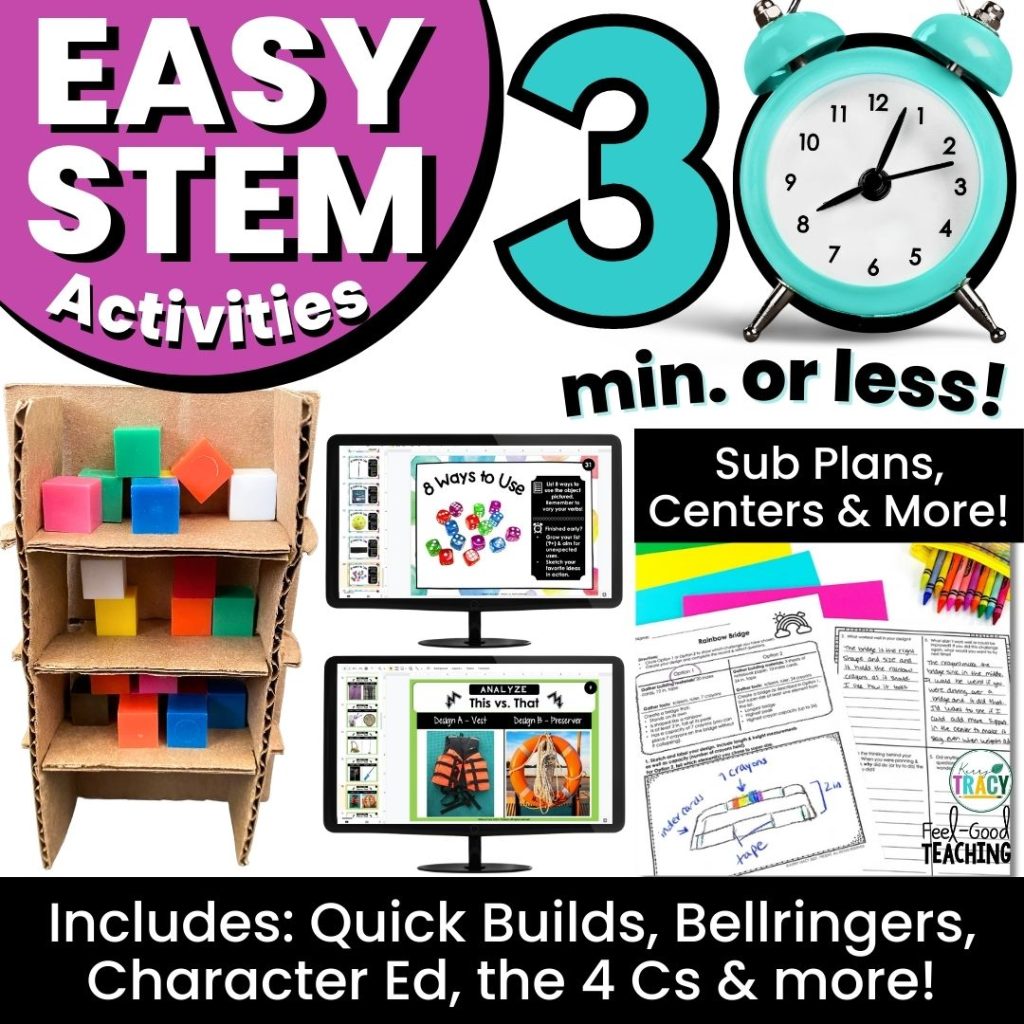 ---
Grab the 5-week free STEM Bellringers sampler that includes 8 Ways to Use and STEM Improv activities below:
---
Pin Me!