Hey there, STEM enthusiasts! Welcome back to the make-your-teacher-life-better world of easy STEM activities. Last week, I started the 30 Easy STEM Activities in 30 Minutes or Less series where I'm sharing 5 ideas at a time to help you fit more STEM into your short class period. If you missed the first 5 activities, you may want to go back and start with the first linked post above.
This time, we're diving headfirst into the captivating (terrifying?) realm of teaching critical thinking. It's one of the toughest skills to teach, but I have some tricks up my sleeve that will get you on your way to deep learning, even if you have 30 minutes or less!
My goal each week remains the same: to provide you with easy-to-implement STEM activities that challenge your students' minds. And don't forget each week's post will have at least one free teaching resource.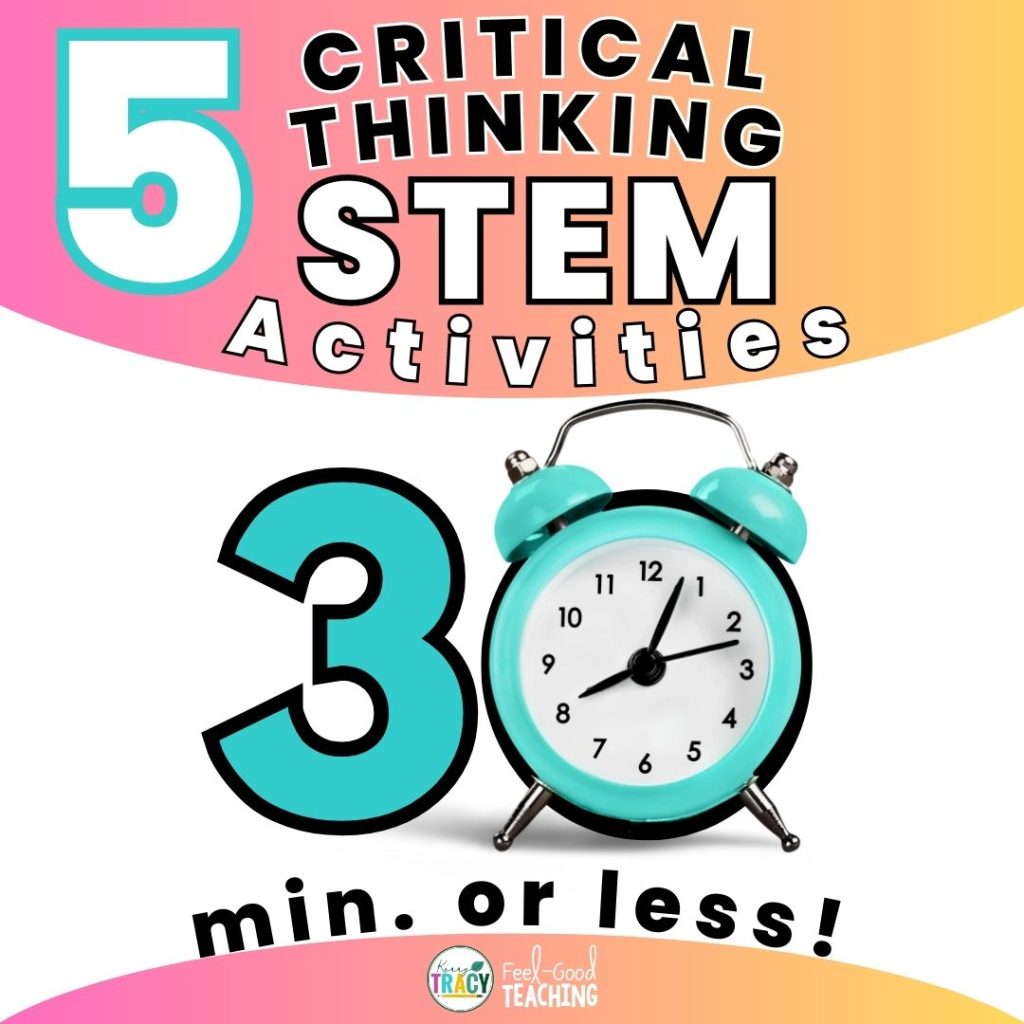 So, let's sharpen those critical thinking skills! Buckle up, because things are about to get interesting. 🥰
---
Teaching Critical Thinking STEM Activity #6:
Analyze This vs. That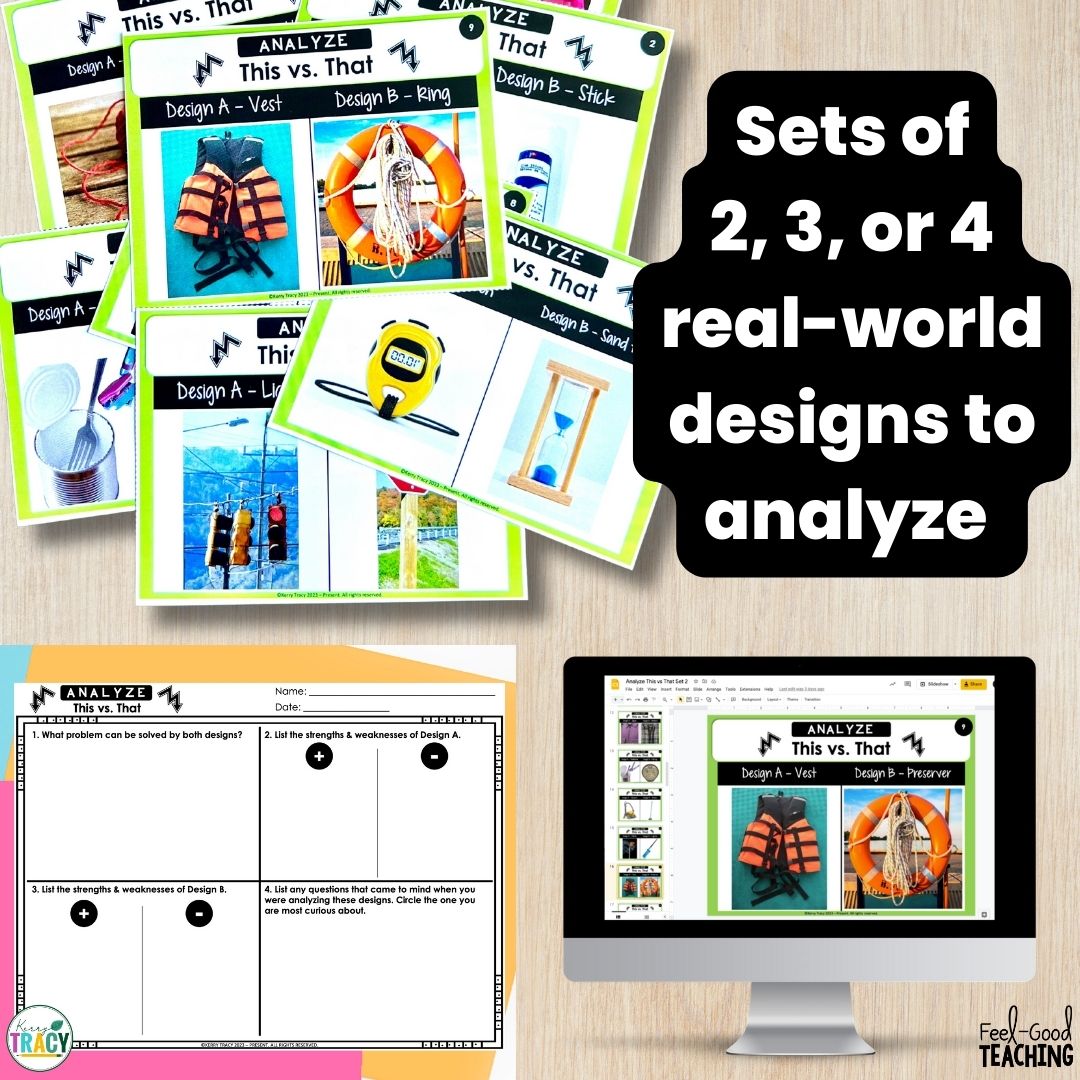 In this Analyze This vs. That, we'll present students with two (or even 3 or 4) real-world designs that solve a similar problem. Their task? To analyze the strengths, weaknesses, and potential research questions for each design. They can even go a step further and describe situations or customers where each design would be the perfect fit. And if you have more time on your hands, why not have students create digital or video ads using graphic design or video-editing programs? So get your students' analytical hats ready! You can grab some free samples of Analyze This vs. That at the bottom of the post in the 5-week sampler. 🥰
---
Easy STEM Activity #7:
Work Backward Criteria & Constraints Lists
Are you up for a challenge? In this activity, we'll take any set of Analyze This vs. That photo cards or actual objects and ask students to work backward and infer what might have been on the criteria and constraints list for each design. This is an excellent opportunity for teaching critical thinking skills by analyzing designs and deducing the factors that influenced their creation. You can even use photos of STEM Challenges completed by other classes to see the unique features and guess the criteria and constraints that led to those designs. Put your thinking caps on and let's unlock the secrets behind these innovative creations!
---
Teaching Critical Thinking STEM Activity #8:
STEM Design Domino (or Dice)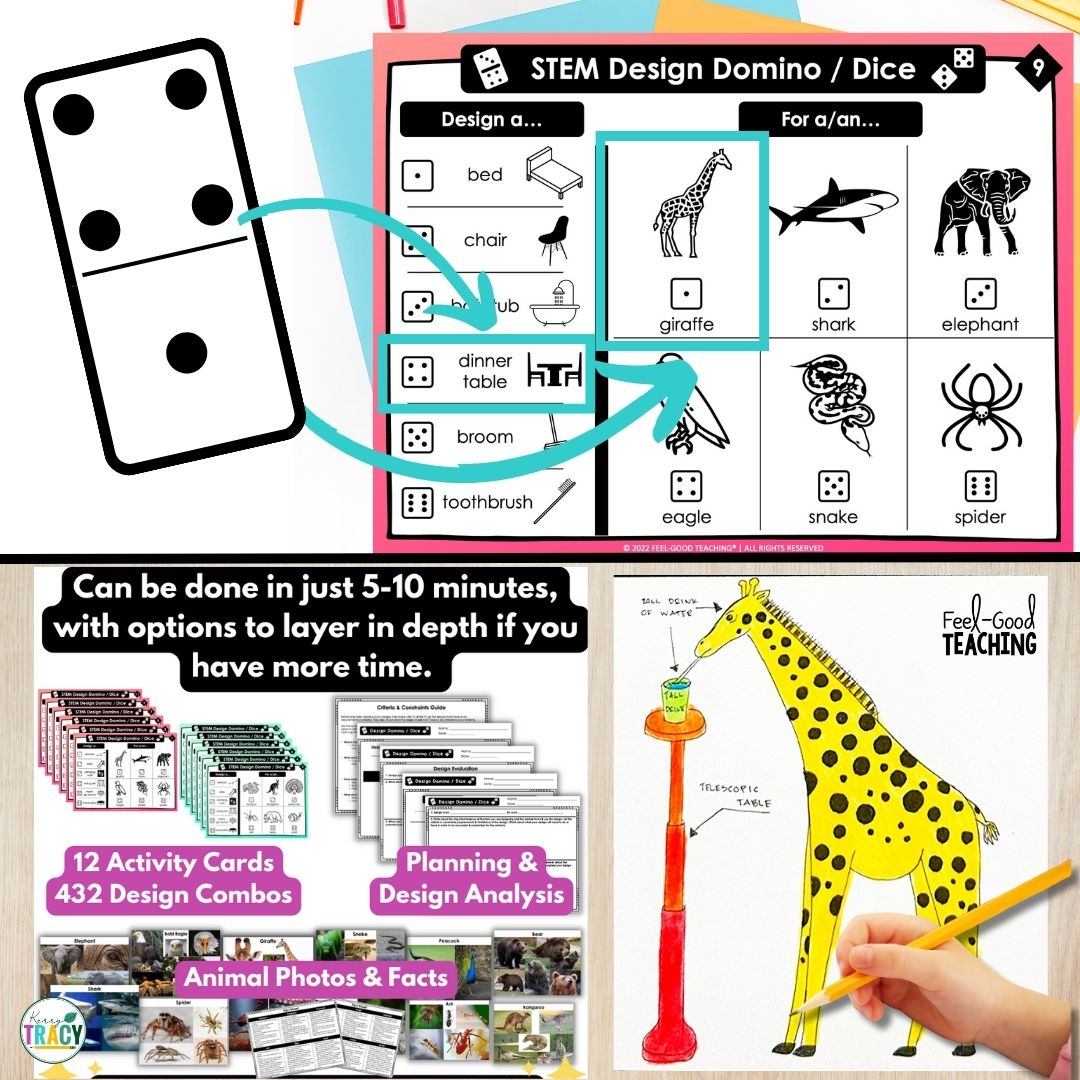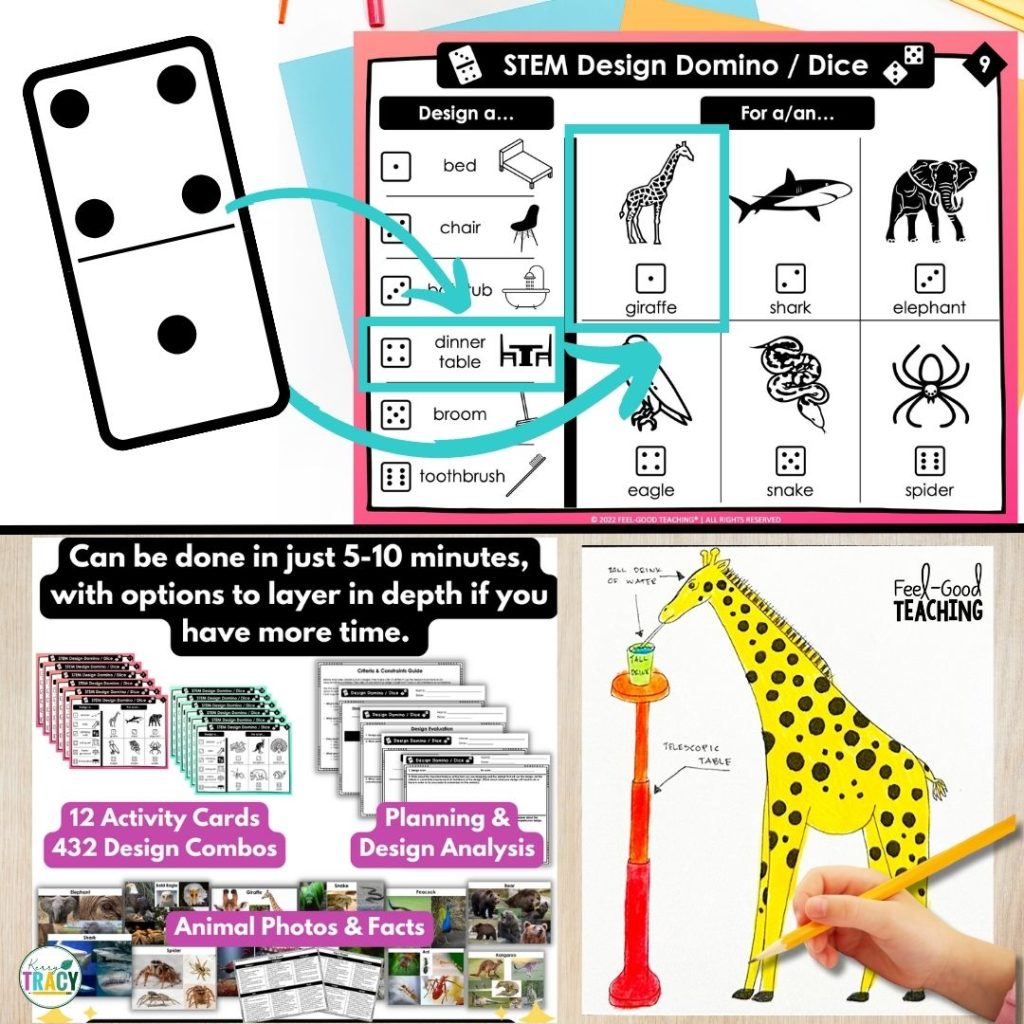 STEM Design Domino (or Dice) is one of my absolute favorites. In this activity, students will put their minds to the test as they plan customized designs for a specific animal. By pulling a 6:6 domino or rolling dice to select a random design combination, students will have to think critically and creatively to solve problems and make design decisions from multiple angles.
What I absolutely love about STEM Design Domino is that it takes about 5-10 minutes for the simple version, but it comes with instructional options to layer in more & more depth if you have more time available.
Plus, students will blow your mind with their ideas and deep thinking.
---
Teaching Critical Thinking STEM Activity #9:
Storybook Problems
Teaching critical thinking through picture books is something you probably already know how to do. However, we all do things differently. My suggestion is to read just about any picture book and have students alert you when the character has a problem to be solved. Pause reading the story before the character solves the problem. You just want students to have enough information to understand the problem fully.  
Students will then define the problem to be solved as well as the criteria & constraints to successfully solve it. They can do this with a simple T-chart with criteria (or requirements) on one side and constraints (or limitations) on the other. You can do this whole-class, or place students with partners or in small groups.
Note, they don't actually need to build the solution. In fact, I'd caution against it. We want them to really focus on defining the problem and the requirements & limitations to solving the problem. If building is on the table, they'll rush through the thinking step.
Have students share their ideas with the class and then complete the read-aloud to see how the character(s) solved the problem.
Then have the students re-evaluate their criteria & constraints lists. Did they miss anything they should have included? How well did the character's design adhere to their list?
Fairy tales are a great starting point when teaching critical thinking. Here's a list of picture books that work well for tower and structure designs on my sister-site, STEM Challenge.com. Unlock the power of storytelling in developing critical thinking skills!
---
Teaching Critical Thinking STEM Activity #10:
Would You Rather STEM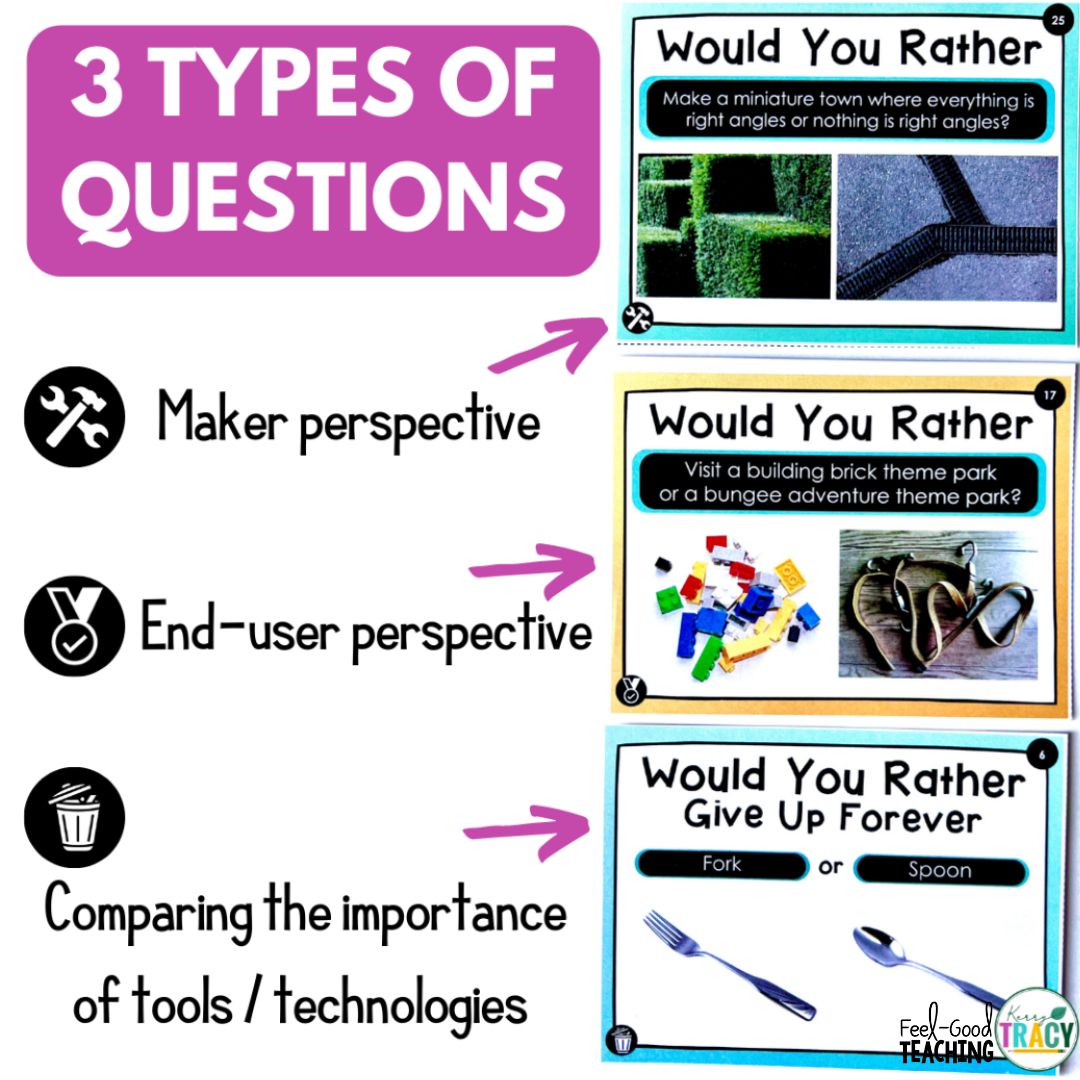 Would You Rather STEM helps students develop critical thinking in STEM and defend their positions. So you've got 2 of the 4 C's of Engineering with this activity: critical thinking & communication! I've categorized the questions into "Make," "Use," and "Give Up Forever," allowing students to explore different perspectives as designers and users of technology. It's an excellent opportunity to engage in discussions and debates while teaching critical thinking skills. And don't forget to grab the free samples of Would You Rather STEM using the link provided. Let the decision-making begin!
---
So there you have it, the second set of 30 STEM activities that will challenge your students' critical thinking skills in 30 minutes or less. Stay tuned for the next installment, where we'll dive into how you can help students develop creativity. Don't forget to check out the Ultimate 30 Minute STEM Activities Kit for even more mind-bending challenges. Enjoy the journey of discovery and teaching critical thinking with your students!
Grab the 5-week free STEM Bellringers sampler that includes Analyze This vs. That,  Would You Rather & more activities for teaching critical thinking, creativity & more with your students in 30 minutes or less! You'll find it when you scroll down. 🥰
"See" you soon!
---
Check Out the Ultimate 30 Minute STEM Activities Bundle: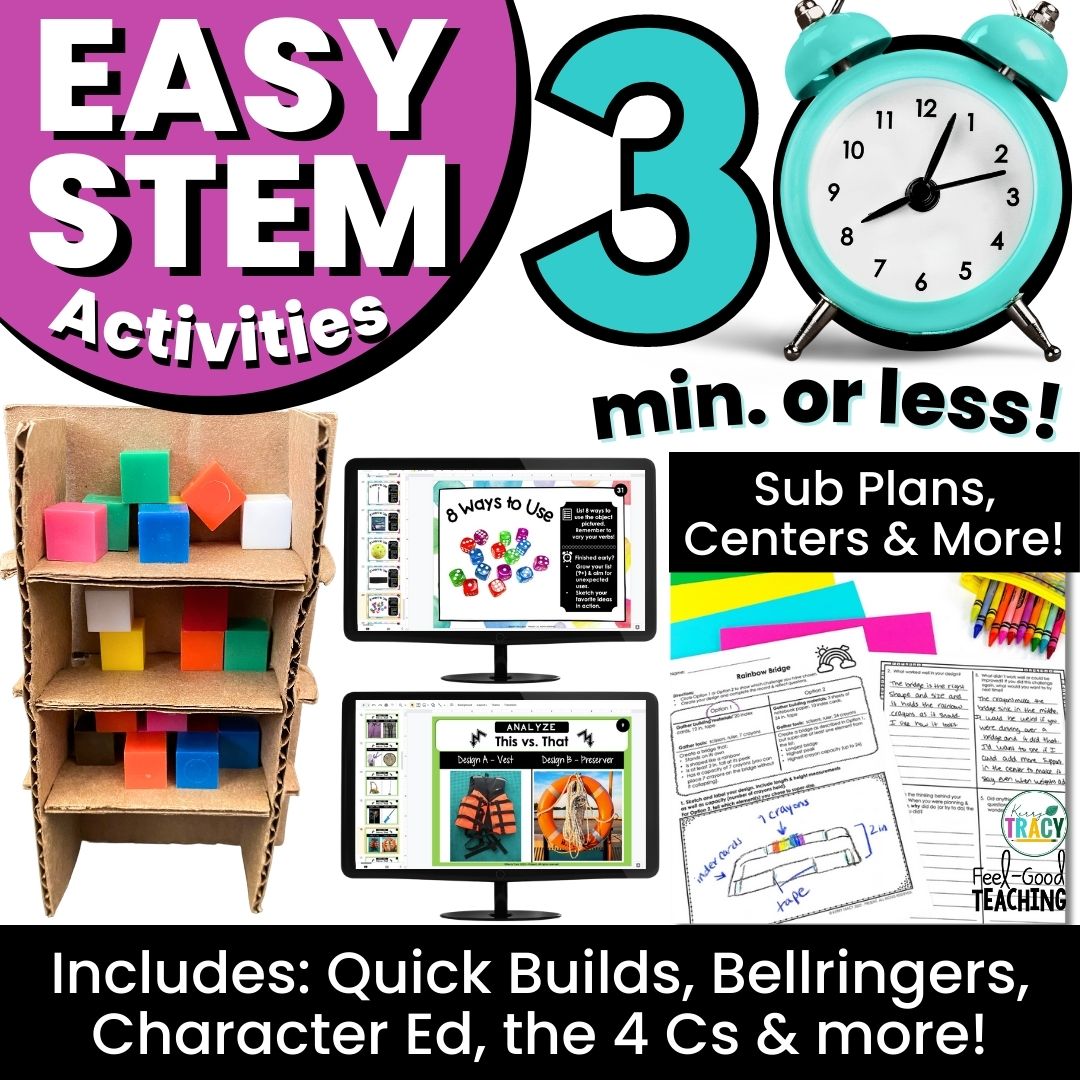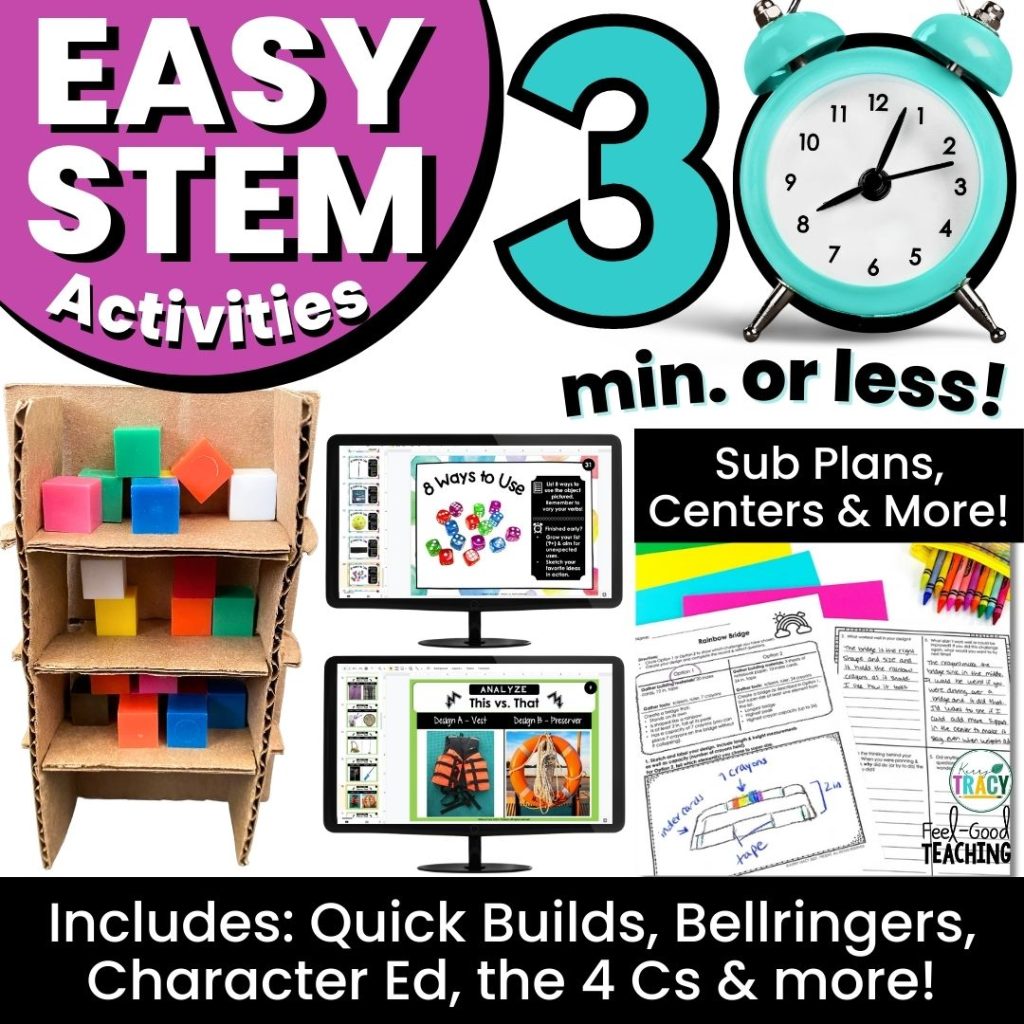 ---
Freebie STEM Bell-ringer Sampler
---
PIN ME!