This challenge was created as a way to celebrate Black History and/or Women's History Month in science class. The premise is inspired by Sarah E. Goode's 1885 invention of the folding cabinet bed. She was one of the first African-American women to obtain a patent for her invention. (Note: Several source cite Goode as the first, but others put Judy W. Reed's dough kneading machine ahead in 1884.)
You can obviously use this challenge at any time of the year, but it works especially well for Black History or Women's History Month! I also think it works well in April as part of Earth Day because creating multi-purpose items falls in line with being smart about our resource consumption on the planet!
Premise
Working against a criteria/constraints list in groups, students will design and build multi-functional furniture, or furnish an entire apartment.
Suggested Materials
---
Video Walk-Throughs
"NORMAL" YEAR
If you prefer reading to watching, you'll find the video transcribed below.
PANDEMIC MAKEOVER FOR SOCIAL DISTANCING AND & DISTANCE LEARNING
Check Out the Resource
---
Transcription
Hi, I'm Kerry from Feel-Good Teaching, and today is the very best day of the week: STEM challenge day. And I have a brand new one for you. It's called Functional Furniture. It's perfect for Black History Month or Women's History Month, and I will tell you why right after we check after the materials and the STEM challenge cycle.
This is the STEM challenge cycle you should follow for every challenge. I've defined each step in another video. You'll find a link to that video in the description below.
0:26
This challenge is inspired by one of the very first African American women to obtain a US patent for her invention. Her name was Sarah E. Goode, and her invention was the folding cabinet bed. Now, in 1885 she ran a small furniture shop with her husband, and the customers has very, very small apartments, so she wanted to create something that allowed them to utilize their space more effectively. Efficient, space-saving, multifunctional furniture is always in fashion. So, with this challenge, we're going to have the students create a piece all their own.
As usual, I have a couple different ways you can tailor this challenge to the age and abilities of your students. The simpler version is to put your students in partners and have them create just one piece of multifunctional furniture. Students will need to meet at least two of the following three criteria: the furniture must convert or transform; save space; or serve more than one function. Where functions are concerned, the more the merrier. As far as constraints, you always have time and materials but in addition for this, you can either have the students build to scale, or at least give them a size constraint, no dimension may exceed six or eight inches.
1:28
Now, to increase the difficulty, you can have students actually design an entire studio apartment. For this, I would put them in groups, and before they build, have them brainstorm a list of necessities and niceties for their apartment. You'll set the square footage ahead of time, and of course the smaller the apartment, the more challenging it is to fit in all of the necessities. And of course, you can always throw in a storage requirement for clothing, dishes, knick knacks, et cetera. So, tell the students they have to have at least, say 20 cubic feet of storage within their designs.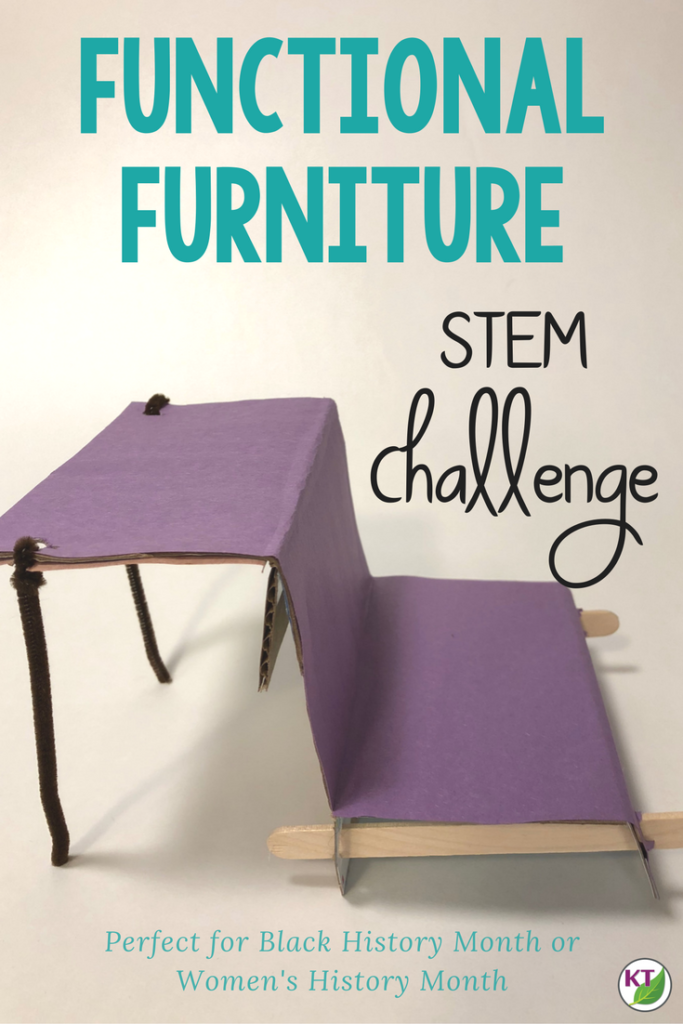 To measure results on this, simply have the students list out whatever furniture pieces they made, and the functions that each piece serves. I wouldn't typically treat this challenge as a competitive one. But, if you would like to or you're just looking for a quantitative measure, what you could do is have students count up the number of furniture pieces they created, which might just be one, and then count up all the functions that that piece serves, and then simply do a subtraction problem. Functions minus furniture pieces with higher scores being the goal.
2:28
There are many ways to extend this challenge. One thing you can do is to ask students to research various inventors. They can do a typical presentation, or they can create a STEM challenge inspired by one of the inventions. If you have some measurement standards to cover, have students practice taking and recording measurements of various furniture and appliances around the classroom or at home, then they can use that list to calculate scales based on those real life measurements and various grid papers you give them. Take that a step further and have them create studio floor plans. And when they've got everything just the way they like it, reduce the square footage on them and see if they can make the necessary adjustments.
If you want to incorporate some ELA, have students create an ad, commercial, or viral video advertising their furniture. You could also have them develop a product pitch, sort of like a classroom Shark Tank, where they're looking to get investors to help them put their piece into production. The students in the audience can participate in Q&A, and they can even have a set budget, say $100,000, to invest with whichever groups they think had the best presentation or the most likely to make them a return on their investment.
3:32
So, you're all set. You are ready to do this challenge in your classroom on your own, but if you want to save a whole lot of prep time, check out the resource. This resource contains everything you need, including modifications for use with second through eighth graders. You'll still need to gather the simple materials of course, but the rest has been done for you. You'll get Aligned Next Gen Science Standards; links to my STEM challenge how-to videos to help you get the most from each challenge; and the functional furniture materials list. In Teacher Tips, you'll find premise and setup, how to increase or decrease difficulty through the criteria and constraints list, measuring results and cross-curricular extension suggestions. You'll find two editable criteria and constraints list so you can tailor the challenge to your students.
4:09
For student handouts, there are two versions: four page expanded room for response for younger students, and the two page condensed page paper saver version. You'll also find a set of group discussion questions. In the option design sheets, you'll find necessities versus niceties list; furniture information; and furniture measurement list. In the extension handouts, you'll find studio floor plan; inventor notes; and product pitch templates. You'll also get math extensions and process flow templates.
This resource is available individually, and is part of the discounted Mega STEM Bundle. Coming soon, it will also be part of the new late winter bundle, and in a digital paperless version. Links can be found in the description below the video.
I'm looking forward to your students' designs, so don't forget to tag me on Facebook or Instagram. The links are in the description. Make sure you're following or subscribed. As always, I hope your week has been packed with feel good teaching moments. See you next time.