I just know a lot of you will disagree with me, but I am not a fan of STEM Challenge budgets for student materials in most cases. I am always happy to engage in friendly, healthy debate though! Watch the video below or read the transcript to see my take on it, then let me know what you think in the comments, or join me during a Facebook Live session (usually Wednesdays at 5:00 p.m. Pacific).  If you haven't already, follow the FB page for all kinds of announcements, PD, and group discussions!
I concede there are good aspects to budgets — and even ways I think I'd be happy to use them — but hear me out! They aren't ALL good either, and it never hurts to take a step back and evaluate if our practices are well-aligned with our goals.
Transcription
Hi. I'm Kerry from Feel Good Teaching and today I want to talk about the pros and cons of using budgets in your STEM challenges. Just to make sure we're all on the same page, when I'm talking about a STEM challenge budget, I'm talking about the budget you give students for their materials. For example, you might say to a group, "You have five dollars to spend on materials and pipe cleaners cost 25 cents, tape is 10 cents an inch," and so forth.
I've discussed the topic briefly in a couple of other videos, so you may already know that I come down on the side of anti-budget, but there are definitely some pros and cons and I'd like to explore the topic a little bit further.
Let's talk about a few of these pros. Now, we all no that the M in STEM challenge stands for math, so incorporating budgets into your challenges is an easy way to check the math off the list, but we should be careful not to give ourselves a pass for the math component of STEM challenges just because we have a budget. That might fly for the lower elementary grades, but as you get into upper elementary and beyond, simply having a budget, which is really addition, subtraction, maybe some multiplication and division, we should challenge ourselves a little bit more.
Another pro of using budgets is that it's a built in constraint and if you're following Next Gen Science Standards for engineering, you'll know that you want to students to be working off criteria and constraints. Another thing I here proponents say that they really like is that it builds in a real world experience because if you think about it, when contractors are building homes, they have to work within budgets and really most projects do have a budget constraint.
Additionally, having a budget would require students to plan ahead and to use their negotiating skills within their groups. So far this sounds pretty good, right? You might be wondering why is it that I come down on the anti-budget side. Let me share with you some of the cons from my point of view.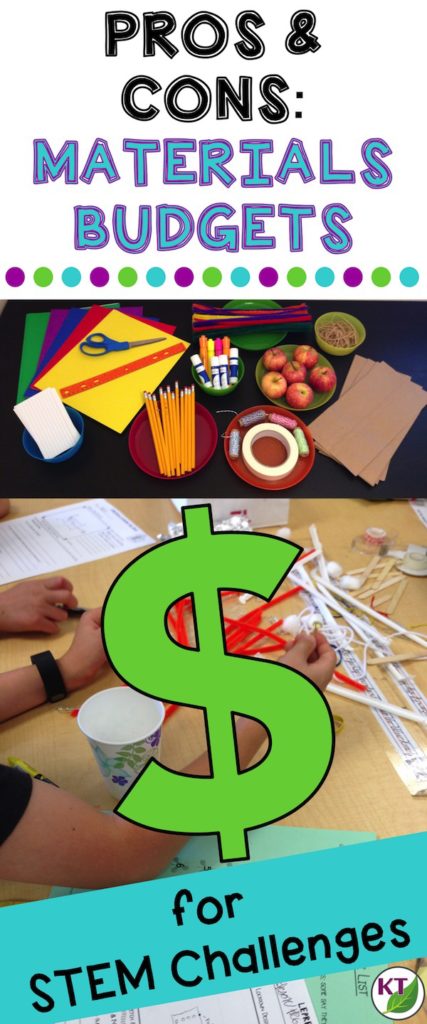 Let's start with the real world experience. Yes, contractors do work with budgets for their materials, but you know what else contractors have, is a whole lot of background experience working with materials and doing these types of projects and being in charge of budgets and you know what our students don't have? All that background experience. I already hear the naysayers saying, "Well, where are the supposed to get that experience?" Stay tuned, I'm going circle back to it.
In my opinion, having a budget for the first iteration of a STEM challenge is basically creatively handicapping my students and it's setting them up for failure because they don't have the background they need in order to effectively plan a budget and because even if our students are experienced with STEM challenges in general, they don't have experience with this particular STEM challenge. Asking them to go in and pay for materials out of a budget with a brand new challenge, for many of them can induce an analysis paralysis. Can really bog down their creative process and their indecision keeps them from being able to move forward.
Something I've noticed on first iterations of design challenges is that student's designs change dramatically even over a short build period. What they initially think they're going to do when they go in just doesn't work for some reason and they have to change course. I know for me, if I bought a set of materials with my budget and something didn't work the way I wanted and I really needed one more pipe cleaner to make something outrageously amazing, but I couldn't because I didn't buy it in my initial budget, I would be so furious and I know I would just shut down. Of course that doesn't mean I shy away from all things that might be unpleasant, I just think about whether or not this is serving my end goal or a higher purpose of some kind.
As far as the math integration goes, there are myriad ways to accomplish that depending on the challenge. As you know in all my video walkthroughs, I go over different ways you can integrate math and once we get into upper elementary grades and beyond, simply having a budget is probably not enough. If you explore your grade level standards, you're probably going to find better correlations that are more challenging and more appropriate for your incorporation of math.
Still, I don't think budgets are all bad. I think there are some ways we could really use them wisely. I do think it could be really appropriate to use budgets on the second iteration of a challenge because at that point, the students have the background, they have an idea or a better concept of designs that worked and what they might like to build going forward. In short, they have the experience they need to make those budgetary decisions.
Another thing you can do is to flip it around and do it backwards and this idea actually came to me from somebody who left a comment on one of my other STEM challenge videos, so let's take a look at that.
This comment was left on the what to do with completed STEM challenges video:
"Rather than giving them a budget to work with at the beginning. I waited until the end and gave them a materials cost list. Each item they used in their designs had a price attached to it. We tied in addition, multiplication, measurement, students were shocked at how much their used tape balls weighed and many other areas of math. We did estimates, predictions before the disassembling process about which group's design would be the most and least expensive. It generated lots of great conversation during the disassembly process."
I'd love to give this viewer credit, unfortunately, the user name just says buyer, so whoever you are at there in the world, thank you so much for taking the time to share these great ideas with us.
I think that's such a cleaver approach and without even setting up a formal budget, you could do a second iteration of a challenge and simply make the goal for the students to create a successful design, that's also the least expensive.
All this said, I know using budgets with STEM challenges is very popular and I'm not telling you not to do it. I'd love to continue the conversation and I'd love to hear about how your using budgets and if you've found them very successful in your class.
Share your thoughts in the comments or reach out on social media. In fact, I just started a Facebook Group, so join that. That would be a great place to have this conversation.
Until then, I hope your week is packed with feel good teaching moments. I'll see you next time.