If you're like me, Groundhog Day isn't much of a holiday! It's always just seemed silly without substance to me. Now I don't mean to brag or overstate, but this challenge changes everything! I've found LOTS of ways to make Groundhog Day worth your instructional minutes, for (at least) grades 2 – 8!
The materials are super simple, and the extensions, plentiful and rigorous: two great reasons to celebrate in my book!
Premise
In groups, students will create groundhog shadows, searching for the perfect combinations of light source angles, distances, and even groundhog accessories to meet the specified shadow criteria & constraints. Shadows will be traced and and turned into street art/graffiti. Includes modifications, grades 2-8.
Materials
Watch the video to get all the basics down first. (You'll find a transcript at the end of the post, if you prefer reading over watching.) I can't seem to stop thinking of ideas for this challenge, so as I think of more, I'll keep adding ideas to this post below the video!
Watch the Video!
*Note: In the video, one of the data tables has a typo. It has been corrected in the resource!
---
Want More?
So in love, I did a deep-dive into Groundhog Graffiti on my FB page, Wednesday, January 17. That post is embedded below for your reference!
As I mentioned, the ideas keep coming for this kooky challenge. Here are a couple that haven't even been added to the resource yet! At some point, I will refine the ideas and edit the resource, but I don't want you to have to wait!
Analyzing Designs Bonus Video
Adding Difficulty to the Criteria & Constraints List
Rather than treating each shadow in isolation, make it more of a puzzle! Here are a few examples:
– One of the shadows must be half the width of another.
– None of the shadows can be within 2 inches in length of another.
– One of the shadows must be exactly half the width of another.
– At least one dimension on every shadow must be (or round to) a prime number.
– Every shadow's length & width dimensions must share a common factor other than 1.
Extensions
– Find applicable current events (like this one) to further your discussions/debates about graffiti.
– Have students research what happens when animals, like the groundhog, hibernate. Then give them an option to show what they learned:
Create informational pamphlets (like the ones you might find in a doctor's office) describing the condition.
Create an infographic on hibernating animals, perhaps categorizing based on how long they hibernate.
Work hibernation details into a narrative, picture book, or list of things to do, when your bestie hibernates and you don't!
---
Treat Yo'Self! Get the Resource!
---
Transcription
Kerry: Hi, I'm Kerry from Feel Good Teaching, and today is the best day of the week once more, Stem Challenge Day. And I have a brand new one for you: Groundhog Graffiti.
Now I know what you're thinking: This isn't a real holiday. Seasonal predictions made by groundhogs, that ain't science. And Groundhog Day, I don't have time for that in my class.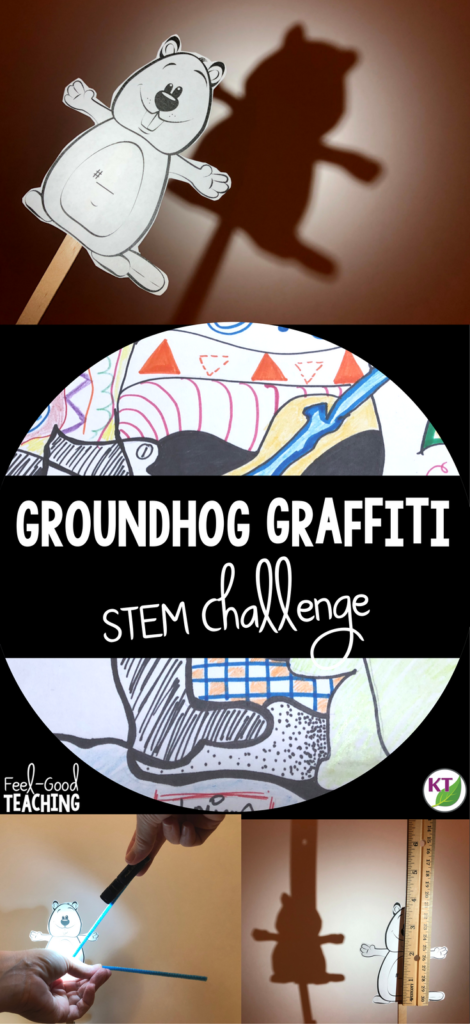 But bear with me. I have found a way to make Groundhog Day worthy of your instructional minutes. The Groundhog Graffiti challenge has so many modifications and extensions, and I'll share those with you right after we check the materials and the Stem Challenge cycle.
This is the Stem Challenge cycle you should follow for every challenge. I define each step in another video. You'll find a link to that video in the description below.
0:43
Two quick notes on materials. While you saw that they were super simple, I do recommend having the students actually attach their templates to craft sticks or pipe cleaners as handles because it makes it easier to define the shadows. And for the flashlights, you'll want to use the single bulb flashlights as opposed to ones that have a cluster of bulbs, because again, it makes the shadows better defined. And if your students have cell phones, just let them use the flashlight app on their phones. They work really well for this challenge.
This challenge comes in two parts. The first is all about meeting shadow criteria. The second portion is about creating the graffiti, which I'll cover later in the video. The hardest part of this challenge is about creating specific shadows, so if you want to keep this simple for younger students, you can give them criteria like create a shadow that's longer than the groundhog is tall or wider than it is wide or the same width but to the left. You can have them create distorted shadows where the head is wider than the body or a shadow that's no more than one centimeter wide.
1:38
You might have noticed that a couple of my groundhogs here are wearing accessories. We make accessories optional in this challenge. Students may choose to add them either to help them meet the criteria or just for style and to make their shadows more interesting. Constraints are that the accessories must be a reasonable size, meaning the groundhog could conceivably wear it or hold it. Additionally, students are permitted to make folds on the groundhog template, but only where there would be joints. So for example, the head couldn't be folded vertically, but you could fold it forward at the neck a little bit. Same thing with the arms and the little paws. The feet and the tail, et cetera.
If you want to increase the difficulty, one thing you can do is just take those initial criteria and add some percentages to them. So for example, create a shadow that is 80% longer than the groundhog template is tall. A distorted shadow where the head grows by 400% but the abdomen only grows by 250%. The shadow's widest point is 50% wider than the shadow is tall. You can also throw in things like create a shadow that looks like a different animal or a different object, a shadow that slants at a 45 degree angle. And if you want to encourage the use of accessories, you can add criteria around shapes. For example, a shadow that has three sharp vertices at the top or has completely rounded edges.
2:54
To measure results, you'll have the students trace each of the shadow criteria and label it with its number. Their success will be measured on how many of the criteria they successfully met. So three out of four or 75%.
You want to give students a few minutes to actually play with the shadow making before they start trying to address the criteria. Once they are meeting the criteria and tracing them, they need to also be tracking in a data table the setup. What is the position of the groundhog versus the wall, the floor, the flashlight, and the flashlight to the floor? Older students can actually record and track the angle measurements, whereas your younger students, that might be easier just to have them indicate for the groundhog what direction are its eyes looking. Are we straight ahead? Is it looking up? Looking down? Is it tilted to the left or the right? Just make sure you're clear with your students before you start the challenge what data they should be tracking and to what degree or what level of detail.
Once the students have met their shadow criteria, it's their choice to go in and fill in the negative space with additional free choice shadows or to leave it open for the graffiti portion.
3:57
You might choose to leave the graffiti for a different day or skip it altogether, but if and when you do cover it, of course you want to give your students a disclaimer that this activity is not encouraging nor endorsing graffiti in any way. Just want to cover yourself. If the students are going to be working on one large piece of graffiti together in their groups, you might want to encourage them to split it into quadrants so that each person has a section they're responsible for. Another option is you could make photocopies so each person in the group can make their own artwork. If the original design is too big for that, another thing you can do is take photographs of the outlines of shadows and put those into your computer, resize, and print from there.
Prior to making the graffiti, you might actually want to show students a few different examples and have them identify features of graffiti that they find interesting or compelling so that they might choose to use some of that in their own work. You can also bring in some art standards and require that they work in monochromatic, primary, secondary, tertiary, analogous, or complimentary colors. Require that they work in the style of certain artists or that they demonstrate examples of different kinds of lines or patterns or shading techniques. Or add a constraint that they have to leave a certain percentage of negative space in the entire work or maybe even by quadrant.
5:11
There's so many great ways to extend for this challenge, so buckle up. I'm gonna try to go quickly. Create many shadow challenges where the students have to create the longest shadow, the widest, the one with the greatest surface area, but constrain their total sum differences to 25 inches, 50 inches. You can choose some random numbers. Of course, you can do this instead of, but I prefer in addition to the main challenge. Have students work through the scientific method by isolating and testing specific shadow creation variables like distances and angles. Of course, this is a great time to cover the science of seasonal changes, and it's also a great time to go into the historical and cultural myths behind seasonal changes, which of course is where we can get into the history of Groundhog Day as well as the accuracy of the predictions over time.
Spoiler alert! Groundhogs are not very good at predicting the coming of spring.
Show your students some examples of school appropriate graffiti. This can be hard to find, but it's not impossible. Have them discuss and debate their reactions and feelings about what they're feeling. Is graffiti art? Is it criminal? A form of protest? Is it something else? Do their opinions change based on the subject matter or artist's intent? And follow up the discussion with a persuasive writing piece where each student takes a position and defends it.
6:22
The basics are covered and you're ready to do this challenge in your class on your own, but if you want even more ideas, or just to save oodles of prep time, check out the resource. This resource contains everything you need, including modifications for use with second through eighth graders. You'll still need to gather the simple materials, of course, but the rest has been done for you. You'll get a aligned Next Gen Science Standards, links to my Stem Challenge how-to videos to help you get the most from each challenge, and the groundhog graffiti materials list. In Teacher Tips, you'll find premise and setup, how to increase and decrease difficulty through the criteria and constraints list, measuring results and cross-curricular extension suggestions. You'll find two editable criteria and constraints lists so you can tailor the challenge to your students, and two sizes of groundhog templates.
For student handouts, there are two versions: four page expanded room for response for younger students and a two page condensed space paper saver version. You'll also find a set of group discussion questions. There are two versions of data tables for students to track their shadow setups. In the extension handouts, you'll find a shadow mysteries activity and mini Stem Challenges. You'll also get a set of shadow mini labs, graffiti example lengths, and writing templates as well as math extension and process flow templates. This resource is available individually and is part of the discounted Mega Stem Challenge bundle. Coming soon, it will also be part of new late winter bundles and in a digital paperless version. Links can be found in the description below the video.
That's Groundhog Graffiti, and if you do this challenge with your students and you happen to post any photos of their work on social media, pretty, pretty please tag me. I am dying to see what students create. You'll find all my links below. Please make sure you're following or subscribe so you don't miss anything. As always, I hope your week has been packed with feel-good teaching moments. See you next time.